IN PASSING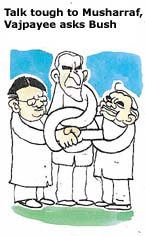 by Sandeep Joshi
Envoys allowed to observe J&K elections
New Delhi, September 13
As part of its plans to ensure transparency in the conduct of free and fair poll in Jammu and Kashmir, the Election Commission has allowed Diplomats from 15 countries and the European Commission to observe elections beginning September 16.
Ultras told to focus on politicians
New Delhi, September 13
Militant outfits operating in Jammu and Kashmir are being categorically told by their masters across the Line of Control to stop attacking military and security installations for the time being and "focus" only on politicians.
Rain plays havoc with paddy crop
Heavy showers predicted in region
Chandigarh, September 13
While the local regional meteorological office has alerted the Punjab and Haryana Governments predicting a heavy rainfall at isolated places in this region during the next 36 hours, the Agriculture Departments in both states say that the moderate-to-heavy rainfall in this region for the past few days has started playing havoc with the paddy crop.
Firing at Lone's funeral
September 13, 2002

Homage at Ground Zero
September 12, 2002

Ultras kill J&K Law Minister
September 11, 2002

Rajdhani jumps track,
100 feared dead
September 10, 2002

Modi kicks off gaurav yatra
September 9, 2002

BCCI ultimatum to players
September 8, 2002

ICC bows to players
September 7, 2002

No free power for farmers
September 6, 2002

India beat Pak 3-2 in hockey
September 5, 2002

Jacob likely to replace Bhandari in Gujarat
September 4, 2002