THE TRIBUNE MAGAZINES
On alternate Mondays

On Sundays
On Saturdays

IN PASSING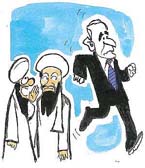 You need not worry. He is after Saddam now!

by Sandeep Joshi
Osama shifting base: reports
New Delhi, September 16
The world's most wanted man, Osama bin Laden, is alive, has taken shelter with tribesmen in North Waziristan, and is constantly shifting base during nights along a 250-mile stretch of the Pakistan-Afghanistan border, according to latest Indian classified reports.



World page: Sixth Al-Qaida suspect held

30 hurt in student-police clash
Amritsar, September 16
At least 14 Elementary Teachers Training and District Institution of Education and Training students sustained injuries when the police lathi-charged agitators, who had assembled outside Government Senior Secondary School, to gherao the Education Minister, Mr Khushal Behl, here today.


| | |
| --- | --- |
| | Policemen chase away protesting ETT students outside Government Senior Secondary School on The Mall in Amritsar on Monday where Punjab Education Minister Khushal Behl was the chief guest at a function. — Photo Rajiv Sharma |
Brush with terror in Handwara
Handwara, September 16
The evening descended suddenly and the mood chilled as we went past Sopore and neared the township of Handwara. A few kilometres later, a detachment of security personnel flagged down the car. "Light band karo," barked someone from the darkness. "Light jalao," shouted another voice from somewhere. The driver looked askance, first switching off the headlights and then switching them on.
Polling in 23 J&K constituencies today
September 16, 2002

Stop infiltration, Bush tells Pervez
September 15, 2002

Vajpayee unmasks Musharraf's duplicity
September 14, 2002

Firing at Lone's funeral
September 13, 2002

Homage at Ground Zero
September 12, 2002

Ultras kill J&K Law Minister
September 11, 2002

Rajdhani jumps track,
100 feared dead
September 10, 2002

Modi kicks off gaurav yatra
September 9, 2002

BCCI ultimatum to players
September 8, 2002

ICC bows to players
September 7, 2002