THE TRIBUNE MAGAZINES
On alternate Mondays

On Sundays
On Saturdays

IN PASSING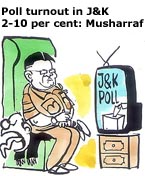 by Sandeep Joshi
SC notices to Krishna, 4 others
New Delhi, September 23
The Supreme Court today issued notices to Karnataka Chief Minister S.M. Krishna and four others on a contempt petition filed by Tamil Nadu, alleging violation of orders of the court and the Cauvery River Authority by its neighbour on release of the stipulated quantity of water.
Politics hindering SAARC growth: PM
Male (Maldives), September 23


Without naming Pakistan, Prime Minister Atal Behari Vajpayee today blamed "some irrational political motivations" for hindering the efforts for closer cooperation within SAARC and asserted that the growth of the grouping would not be allowed to suffer as a result.


In video: (28k, 56k)
Sidhu contests court's jurisdiction
Ropar, September 23
Arguments on an application filed by the counsel for former PPSC Chairman Ravinder Pal Singh Sidhu with regard to his discharge for want of territorial jurisdiction led the proceedings in the bribery case in the court of the Special Judge, Mr A.S. Kathuria, here today.


Diplomatic efforts to bring back Abu Salem
September 23, 2002

Efforts on for Abu's extradition
September 22, 2002

Salem nabbed in Lisbon
September 21, 2002

Militants attack school
September 20, 2002

Return presidential reference, pleads EC
September 19, 2002

Grenade attack on Cong HQ
September 18, 2002

Vajpayee rejects LoC as international border
September 17, 2002

Polling in 23 J&K constituencies today
September 16, 2002

Stop infiltration, Bush tells Pervez
September 15, 2002

Vajpayee unmasks Musharraf's duplicity
September 14, 2002

Firing at Lone's funeral
September 13, 2002

Homage at Ground Zero
September 12, 2002