THE TRIBUNE MAGAZINES
On alternate Mondays

On Sundays
On Saturdays

IN PASSING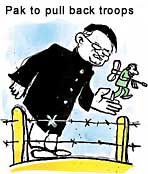 You go ahead. The withdrawal orders are for the troops only!
by Sandeep Joshi
Sena chief not to seek bail
Mumbai, October 18


Fully standing by his Dasehra rally speech containing anti-Muslim remarks, Shiv Sena supremo Bal Thackeray said today that he would not seek anticipatory bail in the criminal case registered against him and blamed Chief Minister Vilasrao Deshmukh and not his bete noire Chhagan Bhujbal for the decision to proceed against him.


In video (28k, 56k)
Himachal Governor's nod to prosecute Virbhadra
Shimla, October 18
The Governor, Dr Suraj Bhan, is learnt to have granted the mandatory sanction to prosecute Mr Virbhadra Singh, Leader of the Legislature Congress Party, in a case registered against him under the Prevention of Corruption Act in connection with the alleged irregularities in the allotment of khair wood quota to a private "katha" manufacturing unit just before demitting office in March 1998.
Central observers for SGPC poll
Badal gets jolt as 10 SGPC men join Tohra faction
Amritsar, October 18
In a significant development, the Union Home Ministry has decided to send poll observers for the SGPC elections, scheduled to be held before November 30. The observers would ensure a free and fair election of the SGPC office-bearers and check the distribution of liquor, currency, drugs and use of muscle power during the election.



SGPC men loyal to Badal, Tohra meet


Badal meets Talwandi


Tohra threatens parallel poll
Governor's rule in J&K
October 18, 2002

CCS okays troop withdrawal
October 17, 2002

Ultimatum to Cong, PDP
October 16, 2002

Cong, PDP adamant
October 15, 2002

J&K poll turning point: Advani
October 14, 2002

Congress, PDP talks make some headway
October 13, 2002

Independents hold key
October 12, 2002

Voters reject NC; Omar humbled
October 11, 2002

Copters, jawans tighten cordon
October 10, 2002

Voters defy the bullet
October 9, 2002