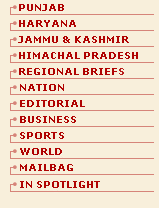 Sunday, October 27, 2002, Chandigarh, India
Updated at 3:00 am (IST)

Mufti to be CM
Cong, PDP agree on rotation


New Delhi, October 26
Mr Mufti Mohammed Sayeed is set to be the new Chief Minister of Jammu and Kashmir as head of a coalition of the Peoples Democratic Party, Congress, smaller parties and Independents.


In video (28k, 56k)
A Mehbooba, Sonia initiative
Jammu, October 26
The Congress has sided with those who mauled the otherwise invincible National Conference. This is the lesson one learns from the way the AICC leadership agreed to the demand of the PDP to instal Mufti Mohd Sayeed as Chief Minister in Jammu and Kashmir.

CAST YOUR VOTE
Should Farooq Abdullah have continued as caretaker CM?