THE TRIBUNE MAGAZINES
On alternate Mondays

On Sundays
On Saturdays

IN PASSING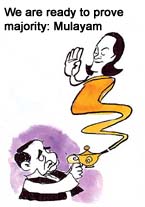 Will you please help us Madamji?

by Sandeep Joshi
Mufti to take oath today
Srinagar, November 1
Mufti Mohammad Sayeed will be sworn in as Jammu and Kashmir Chief Minister here tomorrow, marking an end to the two-week Governor's rule imposed on the state following a stalemate over the formation of a coalition government.
Pak to remain suspended from Commonwealth
London, November 1
Declaring that it will be premature to conclude that democracy has been restored in Pakistan, the Commonwealth today decided that the country remain suspended from the grouping.
SC's interim formula on Cauvery waters
New Delhi, November 1
Requesting the Cauvery River Authority (CRA) headed by the Prime Minister to resolve the water dispute at the earliest, the Supreme Court today fixed an interim formula, directing Karnataka to release to Tamil Nadu 9,000 cusecs of water daily till November 6 and thereafter around 6,000 cusecs of water everyday till November 15.


In video (28k, 56k)
Remove posters, EC tells Gujarat
New Delhi, November 1
Taking serious note of reports about display of several posters and hoardings along communal lines in Gujarat, the Election Commission today directed the Chief Secretary of the state to ensure that these be removed forthwith.
HP grants OBC status to Sainis, Jats
Shimla, November 1
The Jats have finally been granted the status of Other Backward Class in Himachal Pradesh. The state Cabinet, which met under the chairmanship of P.K. Dhumal, Chief Minister, here last evening, approved the recommendations of the Commission for Backward Classes for the inclusion of Saini, Choharakas and Jat communities in the state list of Other Backward Classes.
Keep off admissions to MEIs, SC tells govt
November 1, 2002

Mufti invited to form govt
October 31, 2002

RBI cuts bank rate, CRR
October 30, 2002

Gujarat poll on Dec 12
October 29, 2002

Mufti to scrap POTA
October 28, 2002

Mufti to be CM
October 27, 2002

PM vows to crush Pak monster
October 26, 2002

Theatre of terror: 700 held hostage
October 25, 2002

Mufti relents; talks in Delhi tomorrow
October 24, 2002

Pak nuclear scientists in touch with Al-Qaida
October 23, 2002