THE TRIBUNE MAGAZINES
On alternate Mondays

On Sundays
On Saturdays

IN PASSING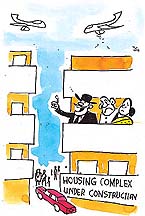 These houses have fire alarm, anti-burglary alarm and jet-warning alarm!

by Sandeep Joshi
Nod to token jatha to Pak
New Delhi, November 6
The Atal Behari Vajpayee government has decided to allow a token jatha of 51 persons to attend the birth anniversary celebrations of Guru Nanak Dev at Nankana Sahib in Pakistan on November 19, it is learnt. The Home Ministry has done the preparatory work in this regard which is awaiting the clearance of Deputy Prime Minister and Home Minister L.K. Advani.
Unilateral truce useless: Azad


Jammu, November 6
The Congress said today that a unilateral ceasefire by Centre against militants in the state during Ramzan was of no use unless the other party "reciprocated it."
Pak-Saudi nuke nexus?
New Delhi, November 6
After the lid has been blown off from the Pakistan-North Korea nexus on nuclear weapons cooperation, a similar clandestine cooperation is understood to be on between Pakistan and Saudi Arabia with China playing a key role in the murky behind-the-scene international power games.



World page: Pakistan the nuke proliferator
India offers $ 10m loan to Cambodia
Phnom Penh, November 6
In a special gesture, India today extended a $ 10 million line of credit on exceptionally preferential terms to Cambodia and signed three other agreements with the South-East Asian country to boost trade, carry out restoration work on 1000-year-old Ta Prohm and extend cooperation in technical education.


In video: Prime Minister Atal Behari Vajpayee arrived in Laos on Thursday for a two-day visit. (28k, 56k)
Republicans seize control of Senate
Washington, November 6
Republicans narrowly seized control of the US Senate today, giving President George W. Bush a major political and legislative boost as he starts the final two years of his first term at the White House.



3 Indian-Americans win in US poll


TRIBUNE EXCLUSIVE
When Johl put in his papers
Chandigarh, November 6
Bureaucrats take Capt Amarinder Singh and Dr S.S. Johl for a ride. The latter resigns in protest as Vice-Chairman, State Planning Board, it is reliably learnt. Dr Johl, as Chairperson of the Chief Minister's Advisory Committee, had prepared a radical agriculture policy for Punjab with emphasis on practical solutions, making diversification possible and viable.
UP rebels to float new outfit
November 6, 2002

Return of Pandits top priority: Mufti
November 4, 2002

Kelkar for 1 lakh as IT exemption limit, 2 slabs
November 3, 2002

SP stakes claim to form government
November 2, 2002

Keep off admissions to MEIs, SC tells govt
November 1, 2002

Mufti invited to form govt
October 31, 2002

RBI cuts bank rate, CRR
October 30, 2002

Gujarat poll on Dec 12
October 29, 2002

Mufti to scrap POTA
October 28, 2002

Mufti to be CM
October 27, 2002

PM vows to crush Pak monster
October 26, 2002

Theatre of terror: 700 held hostage
October 25, 2002

Mufti relents; talks in Delhi tomorrow
October 24, 2002