AGRICULTURE

EDUCATION

HEALTH

SCIENCE

CAREER GUIDE

SPORTS

HER WORLD

TRIBUNE CLASSIFIEDS


BRIDES WANTED

GROOMS WANTED

OTHERS

HOW TO PLACE ADVTS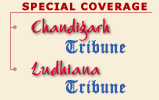 Laden warns US allies
Washington seeks identity of speaker
Washington, November 13


Using sophisticated electronic equipment, US intelligence agencies today pressed to identify the speaker on an audio tape believed to be the elusive Al-Qaida leader Osama bin Laden warning US allies against backing the "White House gang of butchers."
Arrests trigger violence
3 cops hurt; schools closed in Jhajjar
Jhajjar, November 13
At least three policemen, including a DSP, and some villagers, were injured in clashes between the police and the villagers, following the arrest of five persons in connection with the lynching of five Dalits near Surha village on the Gurgaon road here this evening.
PM waives crop loan recovery
Relief for drought-affected farmers
New Delhi, November 13


In an effort to reduce the debt burden on the farming community arising from the failure of the South-West monsoon in different parts of the country this year, the Centre has decided not to effect any recovery of crop loan, including interest, during the current financial year.

In video (28k, 56k)
Vedanti hints at summoning CM, Tohra
Amritsar, November 13
The Jathedar of Akal Takht, Giani Joginder Singh Vedanti, has given broad indications of summoning Capt Amarinder Singh, Punjab Chief Minister, and Mr Gurcharan Singh Tohra, President of the Sarb Hind Shiromani Akali Dal, at Akal Takht for their alleged role in creating an unsavoury situation on the eve of the annual SGPC poll, which concluded here yesterday.


In Science Tribune today