THE TRIBUNE MAGAZINES
On alternate Mondays

On Sundays
On Saturdays

IN PASSING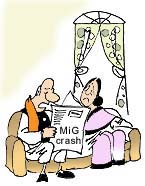 The crash-rate is coming down! This is the second MiG crash of this month.

by Sandeep Joshi
Cong govt has lost credibility: Badal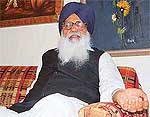 Chandigarh, November 14
"No government has ever lost its credibility or fell in esteem in the eyes of the people as fast as the present Congress government in the state did," says the leader of the Opposition and the SAD President, Mr Parkash Singh Badal, maintaining that "it has failed on all fronts".

PUNJAB PAGE:


Cops didn't enter Darbar Sahib: Tohra


Punjab ministers to Capt's defence
Jhajjar villagers block roads
Suhra (Jhajjar), November 14
The scene has shifted from Dulina to nearby Suhra village, 2 km from Dulina, and the focus seems to have changed from the cow to the man. "Release our men immediately" was a warning issued by the panchayat of 24 villages in Suhra village, held amidst tension and fear of a police crackdown.



Haryana page: Vehicles bound for Punjab, HP diverted via Jhajjar
2 pilots die as another MiG crashes
Siliguri, November 14
Another MiG 21 fighter of the Indian Air Force crashed into bushes in a tea estate in thick fog near the Bagdogra airbase this morning, killing both pilots .



Nation page: Russian experts check MiGs


Hike in water, sewerage charges on anvil
Chandigarh, November 14
The officers' committee has approved the enhanced water supply and sewerage charges, as recommended by the Department of Local Government. The committee Chairman, Mr Y.S. Ratra, confirming this to TNS said today the matter would now be placed before the Cabinet subcommittee on fiscal reforms.
EC bans VHP yatra
November 14, 2002
Badungar re-elected SGPC chief
November 13, 2002
Unprecedented security for SGPC poll
November 12, 2002

Police enters Golden Temple complex
November 11, 2002

All entry points sealed
November 10, 2002

Pre-dawn swoop on SAD workers
November 9, 2002

4 pro-Badal members debarred from voting
November 8, 2002

BJP rebels shelve plan to float party
November 7, 2002

UP rebels to float new outfit
November 6, 2002

Return of Pandits top priority: Mufti
November 4, 2002

Kelkar for 1 lakh as IT exemption limit, 2 slabs
November 3, 2002