THE TRIBUNE MAGAZINES
On alternate Mondays

On Sundays
On Saturdays

IN PASSING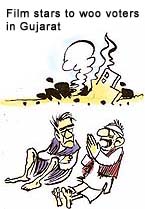 ... and I thought we would never get relief!

by Sandeep Joshi
DSP gheraoed 'for helping pimp'
Jalandhar, November 21
A Deputy Superintendent of Police was gheraoed for three hours by residents of Rattan Nagar here for allegedly patronising a pimp, his flesh trade and an attempt to take a prostitute from the house of the pimp in his car. This is said to be his "routine".
Jhajjar: panchayat called today
Villagers 'reluctant' to court arrest
Jhajjar, November 21
Apparently unhappy over the agreement between the district administration and the Dulina Goraksha Sangharsh Samiti, residents of Suhra and adjoining villages have called yet another panchayat tomorrow at Suhra village, which would be held before a scheduled meeting with Mr Nafe Singh Rathee, MLA from Bahadurgarh, chief broker in the agreement.
Punjab page: Home Guards' kin up in arms against govt

BJP leader Lakshmi Kanta Chawla listens to the problems of the families of Punjab Home Guards who have not been paid their salaries for the past five months. — Photo Rajiv Sharma
Communal clash in UP village
Moradabad, November 21
A clash between BJP and Congress workers sparked off arson and violence by members of two communities in a village of this district prompting the authorities to deploy the Provincial Armed Constabulary to maintain law and order, the police said today.


WITH THE JATHA IN PAK
No President invite for Pakhoke
Islamabad, November 21
In a significant development, President Pervez Musharraf today held a closed-door meeting with representatives of the Pakistan Sikh Gurdwara Parbandhak Committee and US and UK-based radical Sikh leaders.



16 pilgrims hurt


A go-by to House decorum
November 21, 2002
Modi opts for 'safe' Maninagar seat
November 20, 2002
Cong Gujarat list sans Vaghela
November 19, 2002
SC Judge to examine cases against 3 HC Judges
November 18, 2002
Togadia's entry banned
November 17, 2002
VHP rejects PM's appeal
November 16, 2002
VHP firm on yatra
November 15, 2002
EC bans VHP yatra
November 14, 2002
Badungar re-elected SGPC chief
November 13, 2002
Unprecedented security for SGPC poll
November 12, 2002
Police enters Golden Temple complex
November 11, 2002