AGRICULTURE

EDUCATION

HEALTH

SCIENCE

CAREER GUIDE

SPORTS

HER WORLD

TRIBUNE CLASSIFIEDS


BRIDES WANTED

GROOMS WANTED

OTHERS

HOW TO PLACE ADVTS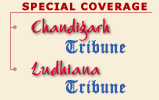 10 killed, 17 injured in bus-truck collision
Malout, December 28
Ten persons, including two women, were killed and 17 others injured when a Rajasthan Roadways bus collided with a canter near Kabarwala village, 9 km from here, on the Malout-Sriganganagar highway this morning.
Wailing relatives of Karamjit Kaur and Lajwanti, who died in a road accident which claimed 10 lives, outside the Malout Civil Hospital on Saturday. — Photo Kulbir Beera
Kelkar report not final word: BJP
New Delhi, December 28
The BJP said today that it was "seriously examining" the final report of the Kelkar task force on tax reforms and would submit its suggestions on the same to the Finance Minister soon.
Rich must pay more for education: PM


New Delhi, December 28
The Prime Minister, Mr Atal Behari Vajpayee, today laid out the road map for reforms in the educational sector, by emphasising the need for strengthening public-private sector cooperation, innovative financing model and restructuring of the state funding in higher education.
In Her World today