THE TRIBUNE MAGAZINES
On alternate Mondays

On Sundays
On Saturdays
IN PASSING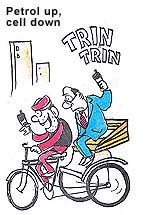 No, no, it's not yours.
It's mine.

by Sandeep Joshi
Dual citizenship for NRIs, PIOs on cards
New Delhi, January 3
Prime Minister Atal Behari Vajpayee is expected to make an announcement regarding dual citizenship for non-resident Indians (NRIs) and persons of Indian origin (PIOs) when the "Pravasi Bhartiya Divas" celebrations begin here from January 9.
TRIBUNE SPECIAL
US troops 'may enter Pak'
New Delhi, January 3
The Washington-Islamabad relations have taken yet another downturn with the US military's yesterday's decision that its troops may pursue attackers into war-on-terror ally Pakistan from within Afghanistan if they come under fire from "hostile forces" along the border.
World page:

Protests over US war designs

Pak questions US cross-border raid rights

CM convenes all-party meeting
Chandigarh, January 3
The Punjab Chief Minister, Capt. Amarinder Singh, today convened an all-party meeting here for January 8 to discuss the SYL canal issue . Confirming this the Chief Secretary, Mr Y.S. Ratra, said the state was already in the process of filing curative and civil writs as replies, in the Supreme Court for which the Chief Minister has had discussions with leading lawyers.
Towards safe rail journey
Jalandhar, January 3
Accidents and collision between trains would soon be a thing of past thanks to the world's first microprocessor based anti collision device (ACD), developed by the Konkan Railways Corporation, which has almost completed its exhaustive trials on the Jalandhar-Amritsar section.
Two LeT ultras held in Batala
Snow in J&K forces militants to Punjab plains
Batala, January 3
Snowfall in the higher reaches of the troubled Jammu and Kashmir has forced ISI-sponsored terrorists to shift their hideouts to the plains of Punjab, especially in the border district of Gurdaspur. This was revealed during an interrogation of two Lashkar-e-Toiba (LeT) militants arrested by the Batala police.
Cell operators slash STD charges
January 3, 2003
India, Pak exchange lists of N-installations
January 2, 2003
Shimla wears a white blanket
January 1, 2003

We were ready for war: Gen
December 31, 2002
Leh council gets full powers
December 30, 2002
Taliban shift bases to Pak: Advani
December 29, 2002
Kelkar retains harsh proposals
December 28, 2002
MiG crashes into house
December 27, 2002
'Swajaldhara' to take water to villages
December 26, 2002
Hindutva not poll issue: Vajpayee
December 25, 2002
Sajjan acquitted in '84 riots case
December 24, 2002