THE TRIBUNE MAGAZINES
On alternate Mondays

On Sundays
On Saturdays
IN PASSING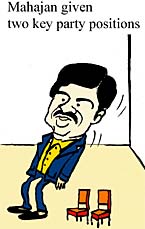 by Sandeep Joshi
EC issues formal notification for
Assembly poll
New Delhi, January 31
The process for electing new representatives in Himachal Pradesh, Meghalaya, Nagaland and Tripura began today with the Election Commission issuing formal notification for the one-day poll.
India plays Central Asia card
Forges strategic ties to counter Pak
New Delhi, January 31
External Affairs Minister Yashwant Sinha today completed a crucial visit to two Central Asian nations, Tajikistan and Kyrgyzstan, at the end of which New Delhi clinched a much closer strategic cooperation with this region, which Pakistan has been using as its strategic hinterland against India.
India, Thailand discuss treaty on extradition
Bangkok, January 31
Expressing deep concern over global terrorism, India and Thailand today declared that the ongoing cooperation between them on security issues needed to be institutionalised and given legal sustenance by finalising treaties on extradition and other issues.

Deputy Prime Minister L.K. Advani shakes hand with Thailand's Prime Minister Thaksin Shinawatra at Government House in Bangkok on Friday. Mr Advani is on a four-day visit to Thailand. — AFP photo
In video (28k, 56k)
Pak laying mines in Indian territory
New Delhi, January 31
Security forces along the international border with Pakistan in the Punjab sector have detected several instances of Pakistani forces sneaking across to lay mines in the Indian territory in the past 10 days.
HIV-positive man conceals illness, marries
Ludhiana, January 31
The only son of a family from Moga, allegedly an HIV positive case, married a girl of Chakra village in Jagraon subdivision of this district. This fact came to light today after a high-level inquiry into the case was conducted by the Jagraon police.
Sports page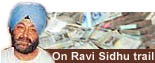 Bathinda Refinery to be speeded up
January 31, 2003
Jaitley, Thakur get Cabinet berth
January 30, 2003
Congress splits in UP
January 29, 2003
Question mark over Bathinda refinery
January 28, 2003
Fresh threat to Bathinda refinery
January 26, 2003
India, France sign extradition treaty
January 25, 2003
Pak expels four Indian staffers
January 24, 2003
Four Pak Mission staffers expelled
January 23, 2003
Nod to jail term for insulting Tricolour
January 22, 2003
Pak cops harass diplomat again
January 21, 2003