THE TRIBUNE MAGAZINES
On alternate Mondays

On Sundays
On Saturdays
IN PASSING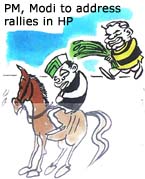 by Sandeep Joshi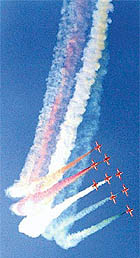 Indian Air Force Suryakiran planes perform aerobatics on the first day of the fourth India Aero-Show in Bangalore on Wednesday. — Reuters
SC cancels order on IPS man
DIG Sharma told not to join duty
New Delhi, February 5
The Supreme Court today struck down a Punjab and Haryana High Court order allowing senior IPS officer R.K. Sharma to join as DIG in the Punjab police despite going abroad for a long time without leave being sanctioned and applying for VRS twice and withdrawing the same subsequently.
Advani rules out referendum in J&K


Singapore, February 5
Rejecting Pakistan's insistence on a referendum in Jammu and Kashmir, Deputy Prime Minister L.K. Advani said today that granting independence to people on religious, ethnic or regional lines would lead to disintegration of the country.


India shoots down Pak UAV
World page:

Pak denies aiding infiltration

India urges USA to use force on Pak
Iraq following policy of deception: Powell
United Nations, February 5


The US Secretary of State Colin Powell told the United Nations Security Council today that Iraq continues to follow a policy of denial and deception and asserted that it is not cooperating with the United Nations weapons inspectors and is hiding prohibited weapons.


World page: Cooperate with team, Blix tells Iraq
Punjab politicians to battle it out in HP
Chandigarh, February 5
Though Assembly elections are being held in Himachal Pradesh, but politicians of all hues from Punjab will be playing a dominating role in these elections directly or indirectly. In fact, in a way politicians from Punjab will be fighting their battles through Himachal elections.
In Science Tribune today
Putin calls up Vajpayee
February 5, 2003
Bangladesh pushes back migrants
February 4, 2003

Remains of Columbia astronauts found
February 3, 2003

Columbia crashes over Texas
February 2, 2003

Srinagar-Jammu highway reopened
February 1, 2003

Bathinda Refinery to be speeded up
January 31, 2003
Jaitley, Thakur get Cabinet berth
January 30, 2003
Congress splits in UP
January 29, 2003
Question mark over Bathinda refinery
January 28, 2003
Fresh threat to Bathinda refinery
January 26, 2003