THE TRIBUNE MAGAZINES
On alternate Mondays

On Sundays
On Saturdays
IN PASSING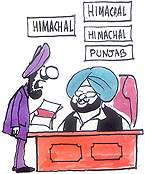 Sir, how many states will you cover in this war against corruption?

by Sandeep Joshi
UP crisis: BJP for panel with BSP
New Delhi, February 14
The BJP Central leadership and Uttar Pradesh leaders are understood to have agreed in principle to force the state Chief Minister Mayawati to constitute a coordination committee comprising leaders from both the parties to ensure that differences on any issue between the BSP and the BJP could be resolved locally.
Chairman to take up demand
PPSC Secy's replacement
Patiala, February 14
The Punjab Public Service Commission Chairman Lt-Gen Surjit Singh Sanghra (retd), today reportedly agreed to take up with government the demand for the replacement of the commission's newly appointed Secretary, Examinations, Mr Ashwani Sharma.
Dhumal sued for defamation
Ropar, February 14
Adding a new twist to the ongoing controversy between Himachal Pradesh Chief Minister Prem Kumar Dhumal and Punjab Chief Minister Amarinder Singh, PPCC secretary Bal Bhushan Sharma, a resident of Morinda, has filed a defamation suit against Mr Dhumal.
Himachal page: Factionalism afflicts Congress, BJP

CPM willing to help Congress form govt

Cong: BJP selling dreams to people

CM to submit latest list of assets


Haryana abolishes post of Pro-VC
Chandigarh, February 14
The Haryana Government today abolished the post of Pro-Vice Chancellor in three universities, namely, MDU, Rohtak, KU, Kurukshetra and GJU, Hisar. A decision to this effect was taken at a meeting of the Cabinet held here today.
BJP, RSS join hands
February 14, 2003
Advani comes to Dhumal's defence
February 13, 2003
VHP wants disputed land too
February 12, 2003
Close ultra camps: Vyas
February 11, 2003
New Counsellors take charge today
February 10, 2003
India expels Pak diplomat
February 9, 2003
Pak diplomat accused of funding APHC
February 8, 2003
Border tension eases as migrants return
February 7, 2003
Bangladesh for talks on border stand-off
February 6, 2003
Putin calls up Vajpayee
February 5, 2003