THE TRIBUNE MAGAZINES
On alternate Mondays

On Sundays
On Saturdays
Decision on EPF rate deferred
Amnesty move for defaulting employers
New Delhi, March 28
The Employees Provident Fund Board today deferred a decision on lowering the current interest rate, rejecting Finance Ministry's proposal to cut the rate by 1 per cent, while the Labour Minister, Mr Sahib Singh Verma, opposed any reduction in it from 9.5 per cent now.
Nanakshahi Calendar gets the nod
Amritsar, March 28
The draft of Nanakshahi Calendar that generated considerable controversy and debate was approved unanimously at a marathon meeting presided over by Akal Takht Jathedar and attended by all other Sikh organisations here today.
150 conches found in excavation
Ayodhya, March 28
At least 150 small conches, a stucco stone, a sandstone structure, pieces of bangles, a mud-stove (chulha) and some articles of glazed terracotta were found during the 13th day of excavation at the disputed site in Ayodhya today.
VAT in rough weather
New Delhi, March 28
The much-touted value-added tax has run into rough weather with at least half a dozen states showing their unwillingness to implement it from April 1, which could force the Centre to defer the deadline by a few months.
Ludhiana page

Bharat bandh against VAT
NCR page

Haryana to go ahead with VAT implementation


Maimed by mine ravages on border
Abohar, March 28
A team led by Dr Bal Krishan Kurve, Chairman of the Indian Institute for Peace, Disarmament and Environmental Protection, Nagpur, has found that a large number of children in the border areas of Fazilka and other sectors have stopped going to school due to financial constraints and domestic compulsions after three years of landmining operations.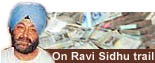 Airfield in Kurdish area occupied
March 28, 2003
Bloodiest day of war
March 27, 2003
Advani sees Pak hand in massacre
March 26, 2003
Militants massacre 24 in Kashmir
March 25, 2003
Allies zero in on Baghdad
March 24, 2003

Basra, Nasiriyah fall to allies
March 23, 2003

US, UK troops push on to Basra
March 22, 2003
US WAR ON IRAQ HAS BEGUN
March 21, 2003
Saddam put on 48-hour notice
March 19, 2003
War clouds thicken; USA, UK shed diplomacy
March 18, 2003