HOROSCOPE
In Her World today
THE TRIBUNE MAGAZINES
On alternate Mondays

On Sundays
On Saturdays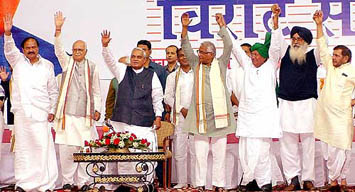 Left to right: M. Venkaiah Naidu, L.K. Advani, Atal Behari Vajpayee, George Fernandes, Om Prakash Chautala, Parkash Singh Badal and Sharad Yadav acknowledge the greetings at a rally marking the completion of five years of the NDA government in the Capital on Saturday. — Tribune photo Mukesh Aggarwal

Oppn walkout on civic poll motion
Chandigarh, March 29
Having first virtually extracted time for discussion on ''excesses'' during the municipal elections, resulting in ''thrashing and injuries'' to Akali-BJP councillors, the Opposition today failed to pin down the treasury benches which frustrated their attempts to cash in on the issue and literally forced them to walk out in protest from the Vidhan Sabha.
Mechanism to address Pandits' problems soon
New Delhi, March 29
The Centre today decided to establish a mechanism to address problems of Kashmiri Pandits hit by militancy even as the community rejected a proposal to resettle them in two designated places in the valley.

In video (28k, 56k)
Rs 206 cr SGPC budget passed
Amritsar, March 29
The Shiromani Gurdwara Parbandhak Committee today passed its Rs 206 crore budget at Teja Singh Samundari Hall with voice vote, here. The amount of Budget was Rs 190 crore last year. The SGPC also passed a resolution seeking permission to carry 'kirpan' inside the Parliament House. This resolution was passed on the demand of Mr Simranjit Singh Mann.


Tara Singh's portrait for House
New Delhi, March 29
For the first time Parliament House will have the life size portraits of Baba Kharak Singh and Master Tara Singh. Lok Sabha Speaker Manohar Joshi in a letter to National Commission for Minorities Chairman Tarlochan Singh stated that the long-pending demand of having Sikh freedom fighters and stalwarts adorn Parliament's hall of fame had been acceded to.
Fresh raids rock Baghdad
March 29, 2003
Airfield in Kurdish area occupied
March 28, 2003
Bloodiest day of war
March 27, 2003
Advani sees Pak hand in massacre
March 26, 2003
Militants massacre 24 in Kashmir
March 25, 2003
Allies zero in on Baghdad
March 24, 2003

Basra, Nasiriyah fall to allies
March 23, 2003

US, UK troops push on to Basra
March 22, 2003
US WAR ON IRAQ HAS BEGUN
March 21, 2003
Saddam put on 48-hour notice
March 19, 2003
War clouds thicken; USA, UK shed diplomacy
March 18, 2003