HOROSCOPE
THE TRIBUNE MAGAZINES
On alternate Mondays

On Sundays
On Saturdays

NDA govt corrupt: Sonia
New Delhi, March 30
Describing the Vajpayee government as "cruel and merciless"' and a "government of scams and scandals," Congress President Sonia Gandhi said today that various sections of society were reeling under misery and deprivation.


Editorial: Back to the roots

Delimitation process from April 9
LS, Assembly seats in Haryana
Chandigarh, March 30
The process for delimitation of the Lok Sabha and Assembly constituencies in Haryana, dreaded by almost all opposition leaders for obvious reasons, will formally start on April 9 when the first meeting of the Delimitation Commission for the state will be held in Delhi.
Diggers find permanent structure signs
Lucknow, March 30
Excavation at a religious site at Ayodhya to ascertain whether a temple existed at a place where a mosque was built in the 16th century, today found indications of the presence of a permanent structure beneath the earth.


Nation page: Ayodhya verdict today

VHP threatens to change govt
In Agriculture Tribune today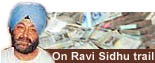 Suicide bomber kills 5 US troops
March 30, 2003
Fresh raids rock Baghdad
March 29, 2003
Airfield in Kurdish area occupied
March 28, 2003
Bloodiest day of war
March 27, 2003
Advani sees Pak hand in massacre
March 26, 2003
Militants massacre 24 in Kashmir
March 25, 2003
Allies zero in on Baghdad
March 24, 2003

Basra, Nasiriyah fall to allies
March 23, 2003

US, UK troops push on to Basra
March 22, 2003
US WAR ON IRAQ HAS BEGUN
March 21, 2003