HOROSCOPE
THE TRIBUNE MAGAZINES
On alternate Mondays

On Sundays
On Saturdays
Pak disallows Indian goods to Kabul
Islamabad, March 31
Pakistan has refused permission to Afghanistan to import Indian goods through the Wagah border in Punjab but agreed to allow Afghanistan's exports to India through the same land route.
Special Group to review security in J and K
New Delhi, March 31
The Centre and the Jammu and Kashmir Government today decided to set up a special group to review the existing macro-strategies in tackling militancy in Jammu and Kashmir.
In video (28k, 56k)


Mayawati opposes govt's healing touch policy

Fresh EC guidelines issued
New Delhi, March 31
Armed with the March 13 verdict of the Supreme Court the Election Commission today issued guidelines for candidates making it mandatory for them to declare their criminal antecedents, assets and liabilities and educational qualification through an affidavit.


Bandh against VAT near total in region
Chandigarh, March 31
The bandh against value-added tax was near total in Haryana, Himachal Pradesh and most of Punjab. The response to the call for a two-day bandh given by the Akhil Bharatiya Beopar Mandal was poor in Chandigarh. Today was the first day of the bandh.
In video (28k, 56k)


Nation page: Bandh against VAT partial
In Education Tribune today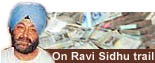 Suicide attack on US base
March 3

1

, 2003
Suicide bomber kills 5 US troops
March 30, 2003
Fresh raids rock Baghdad
March 29, 2003
Airfield in Kurdish area occupied
March 28, 2003
Bloodiest day of war
March 27, 2003
Advani sees Pak hand in massacre
March 26, 2003
Militants massacre 24 in Kashmir
March 25, 2003
Allies zero in on Baghdad
March 24, 2003

Basra, Nasiriyah fall to allies
March 23, 2003

US, UK troops push on to Basra
March 22, 2003