THE TRIBUNE MAGAZINES
On alternate Mondays

On Sundays
On Saturdays
IN PASSING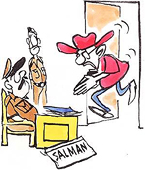 Sir, please put me on Z plus security. I want to sign Aishwarya for my next film!

by Sandeep Joshi
Mufti meets PM, defends 'healing touch'
New Delhi, April 2
Jammu and Kashmir Chief Minister Mufti Mohammad Sayeed said today that no efforts would be spared in addressing the "internal dimensions" of the problem of militancy in the state and bringing peace.


J&K page: Hardline policy not to pay: Hurriyat

AYODHYA ISSUE
Legislation only solution: VHP
New Delhi, April 2
Asserting that the March 31 Supreme Court verdict on Ayodhya had left it with only one "democratic way" — legislation in Parliament — for the peaceful resolution of the Ayodhya issue, the VHP warned that people would reject political parties which were not in favour of construction of the Ram temple.

Ash injured in jeep mishap
Mumbai, April 2
Popular Bollywood actress Aishwarya Rai was today injured seriously when a jeep skidded over her during a shooting in a film at Trimbakeshwar, about 25 km from Nasik.
Salman denies Vivek's charges
Mumbai, April 2
Actor Salman Khan has slammed Bollywood star Vivek Oberoi for making wild allegations against him. The 38-year-old actor, reacting to Vivek's outburst at a press conference at his Juhu residence last evening, denied he had called up Vivek 41 times on the mobile and threatened him.

In video: Bollywood actor Vivek Oberoi alleges Salman Khan has threatened to kill him. (28k, 56k)


The crumbling palaces of Dogra regime
Jammu, April 2
The 161-year-old palaces of the Dogra rulers have become dilapidated ruins because of the neglect of successive governments in Jammu and Kashmir. The ancient Pahari paintings on the walls of these buildings are gradually fading away or have been badly damaged.

The marble palace in the Mubarak Mandi complex of Jammu has turned into ruins.
— Photo S.P. Sharma
In Science Tribune today
Allies kill 11 unarmed Iraqi civilians
April 2, 2003

Al Qaida-Iraq nexus exposed
April 1, 2003

Suicide attack on US base
March 3

1

, 2003
Suicide bomber kills 5 US troops
March 30, 2003
Fresh raids rock Baghdad
March 29, 2003
Airfield in Kurdish area occupied
March 28, 2003
Bloodiest day of war
March 27, 2003
Advani sees Pak hand in massacre
March 26, 2003
Militants massacre 24 in Kashmir
March 25, 2003
Allies zero in on Baghdad
March 24, 2003

Basra, Nasiriyah fall to allies
March 23, 2003