THE TRIBUNE MAGAZINES
On alternate Mondays

On Sundays
On Saturdays
IN PASSING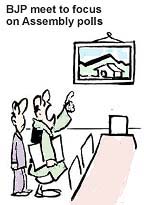 Who hung that Himachal Pradesh landscape there?

by Sandeep Joshi
1 lakh compensation for kin of deceased

Ludhiana page: A date with death and devastation
Top engineers involved
Upper Bari Doab Canal project scam
Chandigarh, April 4
Several senior engineers, who handled the Rs 180-crore Upper Bari Doab Canal (UBDC) remodelling project have been found involved in the scam pertaining to the project. Among them are a Chief Engineer, certain Superintending and Executive Engineers, besides a number of junior officers.
India takes Pak threat easy
New Delhi, April 4
India today dismissed as "knee-jerk" reaction Pakistan's threat to use "full force" to any Indian "misadventure" and asserted that if Islamabad gave up its politics of terror, there would be no talk of military tension.

In video: Pakistan reacts angrily to Yashwant Sinha's statement. (28k, 56k)

Youth down with pneumonia under observation
Bhopal, April 4
As panic gripped the world over a killer respiratory disease, a pneumonia affected patient in Madhya Pradesh today underwent a battery of tests at a local hospital to ascertain whether he has contracted the deadly Asian pneumonia virus.
Ministries meet over SARS
New Delhi, April 4
The Ministry of Health today convened a coordination meeting with nominees from Ministries of Civil Aviation, Shipping, Home Affairs and External Affairs to deliberate on their respective duties and responsibilities to gear up to face the threat posed by the Severe Acute Respiratory Syndrome (SARS).
H.C. Judge withdraws resignation
New Delhi, April 4
In a curious turn, Delhi High Court Judge Shameet Mukherjee today withdrew his resignation given four days ago in the wake of allegations linking his name to the DDA scam, saying he wanted to clear his name, but would like to keep away from judicial work till then.


Haryana not to have paid seats
Admission to engineering colleges
Chandigarh, April 4
Maharshi Dayanand University (MDU) Rohtak, will conduct the common entrance test for admission to engineering colleges in Haryana on June 10. Engineering colleges in the state have about 10,000 seats.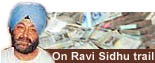 Baghdad airport attacked
April 4, 2003
Allies close in on Baghdad
April 3, 2003

Allies kill 11 unarmed Iraqi civilians
April 2, 2003

Al Qaida-Iraq nexus exposed
April 1, 2003

Suicide attack on US base
March 3

1

, 2003
Suicide bomber kills 5 US troops
March 30, 2003
Fresh raids rock Baghdad
March 29, 2003
Airfield in Kurdish area occupied
March 28, 2003
Bloodiest day of war
March 27, 2003
Advani sees Pak hand in massacre
March 26, 2003
Militants massacre 24 in Kashmir
March 25, 2003
Allies zero in on Baghdad
March 24, 2003