THE TRIBUNE MAGAZINES
On alternate Mondays

On Sundays
On Saturdays
IN PASSING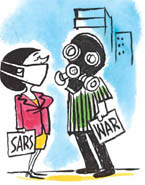 I wonder which destination is more dangerous — Iraq or Hong Kong.
by Sandeep Joshi
Panjwar's accomplice held
Amritsar, April 5
The Rajasthan Police and the Punjab Police in a joint operations today claimed to have arrested Sukhchain Singh alias Mann, an accomplice of Paramjit Singh Panjwar, a self-styled chief of the Khalistan Commando Force, who figures in the list of India's 20 most wanted terrorists.
MiG-23 crash toll rises to five
Mullanpur Dakha (Ludhiana), April 5
The death toll in the MIG-23 crash that took place here yesterday has risen to five with Manjinder Kaur (23) succumbing to her injuries in the Intensive Care Unit of DMC hospital in the morning today.


Ludhiana page: Hundreds came to help at crash site
Amarinder gets bail
S

himla, April 5
Mr A.S. Jaswal, Chief Judicial Magistrate, granted bail to the Punjab Chief Minister, Capt Amarinder Singh, in a defamation case filed by Prof P.K. Dhumal, a former Chief Minister, here today.


Himachal page: Virbhadra 'hushing up' cases against Cong leaders
HP to enforce ban on RSS shakhas

MP youth 'not suffering from SARS'
Bhopal, April 5
A pneumonia-affected patient, admitted to a local hospital, was not suffering from dreaded respiratory disease SARS, a five-member committee set up by the Madhya Pradesh Government said today.

Dr Gro Harlem Brundtland, the Director-General of WHO, says her organisation is trying its level best to control the spread of SARS. (28k, 56k)


Sand mafia digs, civic body covers up!
Hoshiarpur, April 5
Dumping of hundreds of tonnes of garbage in the Bhangi choe by the civic body authorities and alleged illegal mining of sand from the choe bed and even from adjoining fields for years together has not only posed a serious threat to the environment, but has also threatened the health of residents.

Countless heaps of garbage and plastic bags in the bed of the Bhangi choe pose a serious threat to residents of Hoshiarpur town and adjoining villages. — Photo Deepak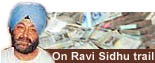 Allies seize Baghdad airport
April 5, 2003
Baghdad airport attacked
April 4, 2003
Allies close in on Baghdad
April 3, 2003

Allies kill 11 unarmed Iraqi civilians
April 2, 2003

Al Qaida-Iraq nexus exposed
April 1, 2003

Suicide attack on US base
March 3

1

, 2003
Suicide bomber kills 5 US troops
March 30, 2003
Fresh raids rock Baghdad
March 29, 2003
Airfield in Kurdish area occupied
March 28, 2003
Bloodiest day of war
March 27, 2003
Advani sees Pak hand in massacre
March 26, 2003
Militants massacre 24 in Kashmir
March 25, 2003
Allies zero in on Baghdad
March 24, 2003