THE TRIBUNE MAGAZINES
On alternate Mondays

On Sundays
On Saturdays
IN PASSING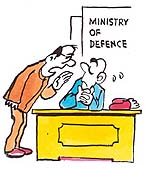 No need to phase out the MIGs. At this rate none will be left.

by Sandeep Joshi
Chandigarh page: Crash victims complain of apathy

HP hikes bus fares by 25 pc
Shimla, April 7
The Himachal Pradesh Government has decided to raise the bus fares by 25 per cent with immediate effect. The decision was taken at a meeting of the Cabinet held under the chairmanship of Chief Minister Virbhadra Singh here today.
Bridge damaged, vehicles stranded
Manali, April 7
A large number of vehicles were stranded on the Manali-Naggar (left bank) road when a portion of the key highway bridge, about 1 km from here, was damaged this morning.
Suspected SARS case in Mumbai
Mumbai, April 7
The first case of suspected severe acute respiratory syndrome has been admitted to Kasturba Hospital in the city here. According to hospital sources, the patient, a 30-year old American woman Rebecca Railey, was admitted with SARS-like symptoms and heavy fever.


World page: Three more die of SARS

Nation page: Medical teams deployed at airports
Jail guard shot dead
Hisar, April 7
A jail guard, Havaldar Vijay Kumar Gulati, was shot dead on the Central Jail premises here this morning. Three persons armed with revolvers were sitting under a tree inside the jail compound meant for visitors. They waited for Havaldar Gulati to come out of his official residence and approach the gate leading to the jail. As he passed by, all three of them fired at him.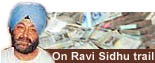 US plane lands at Baghdad airport
April 7, 2003

US tanks roll into Baghdad
April 6, 2003

Allies seize Baghdad airport
April 5, 2003
Baghdad airport attacked
April 4, 2003
Allies close in on Baghdad
April 3, 2003

Allies kill 11 unarmed Iraqi civilians
April 2, 2003

Al Qaida-Iraq nexus exposed
April 1, 2003

Suicide attack on US base
March 3

1

, 2003
Suicide bomber kills 5 US troops
March 30, 2003
Fresh raids rock Baghdad
March 29, 2003