In Career Guide Today
HOROSCOPE
THE TRIBUNE MAGAZINES
On alternate Mondays

On Sundays
On Saturdays
IN PASSING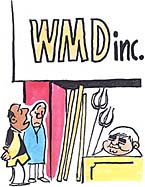 These are weapons of modern democracy not weapons of mass destruction!
by Sandeep Joshi
Chautala clips Governor's powers
Chandigarh, May 1
The Haryana Government today took another step on the collision path with the Governor. The Cabinet, which met under the chairmanship of the Chief Minister here today, decided to withdraw the powers of the Governor to take a decision on memorials submitted to him by state government employees, who may feel aggrieved by any decision of the government in the matter of employment.
Patiala boy tops IAS exam
Patiala, May 1
A Patiala boy and former IIT, Delhi, student, Ankur Garg, whose "guru" had prophesised that he would top the IAS six years ago, topped the exam today in his maiden attempt.


3 Amritsar docs make it to IAS

Chandigarh page: 12 city students clear Civil Services exam
11 killed, 40 hurt in bus mishap
Jammu, May 1
At least 11 persons were killed (15 according to UNI) and 40 injured when a passenger bus rolled down a hill at Kot-Dara, near the border district town of Rajouri today.

In video (28k, 56k)
Minor damage to Iraq gurdwara
New Delhi, May 1
The historical gurdwara in Iraq suffered only minor damage in the US-led bombing, says the Indian Embassy in its report to the External Affairs Minister, Mr Yashwant Sinha.


US Sikhs ready to render help
Villagers kill leopard near Moga
Ludhiana, May 1
After a fierce two-hour hide-and-seek battle Khukrana villagers and the police managed to kill a leopard which had strayed into the hamlet near Moga town. A policeman and three villagers were among those injured in the duel with the big cat.
Officials of the Wildlife Department make arrangements for the cremation of a leopard at Khukrana village in Moga district on Thursday. — Photo Surinder Mann


TRIBUNE SPECIAL
Of settling scores and traumas
Research on experiences of ultras' hostages
Amritsar, May 1
Kidnapping for ransom had become frequent in the late 80s. Some victims narrated their nightmarish experiences while they were in the clutches of their captors, who did not spare anyone. The conclusion drawn from their experiences was that the main aim of the ultras was to extort money and settle scores and not the creation of a separate Sikh state.
FM rules out VAT from June 1
May 1, 2003

PM raises terrorism issue with Jamali
April 30, 2003
A-I charge-sheets 12 pilots
April 29, 2003
Mayawati meets PM over cane price
April 28, 2003
Ultras attack Radio Kashmir complex
April 27, 2003
Day of terror in Kashmir
April 26, 2003
21 crore relief for Uphaar victims
April 25, 2003
PM open to talks on Kashmir issue
April 24, 2003
17 Pak ultras shot in encounters
April 23, 2003
'Politics of revenge' rocks Parliament
April 22, 2003
7 LeT men shot while crossing border
April 21, 2003
Ball in Pakistan's court, says PM
April 20, 2003