THE TRIBUNE MAGAZINES
On alternate Mondays

On Sundays
On Saturdays
IN PASSING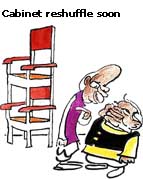 This specially designed chair is to accommodate more ministers!

by Sandeep Joshi
J&K page: George asks separatists to join talks

Edit page: Will Vajpayee's peace initiative succeed this time?
Khan is Pak envoy to India
Islamabad, May 17


Doing exactly what India had done a few days ago, Pakistan today named its Ambassador to China Riaz Muhammad Khan, a career diplomat, as the High Commissioner to India, ending speculation that journalist-turned diplomat Maleeha Lodhi could occupy the key slot.


Pak: no unilateral rollback of N-programme

Edit page: Profile: Menon — 'China Man' moves to Pak
Naggar to have school of art
PM announces Rs 1 crore for gallery
Manali, May 17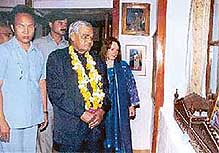 Prime Minister, Atal Bihari Vajpayee, today announced that an International School of art would be set up at Naggar village in the memory of Nicholas Roerich, noted Russian artist and philosopher who made this hamlet his permanent abode.
Prime Minister Atal Bihari Vajpayee at the Roerich Art Gallery at Naggar, near Manali, on Saturday.

Ground for Akali unity ready
Amritsar, May 17
Blueprint for unity between the Shiromani Akali Dal led by Mr Parkash Singh Badal and the Sarb Hind Shiromani Akali Dal (Tohra) is ready.


Punjab page: Decision on Akali unity likely on May 25


Hope turns into despair at Wagah
Wagah, May 17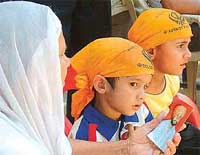 Disappointment was writ large on the faces of the families waiting for a re-union with their wards when the Pakistani authorities informed that the repatriation of Punjabi youth languishing in Pakistan jails would take place tomorrow.
Mohinder Kaur along with her grandchildren waits at the Wagah checkpost for her son Surinder Singh who was to be released by Pakistan on Saturday. — PTI photo

In Her World Today
Change views on terror, Advani asks Pak
May 17, 2003

Burning train claims 38 lives
May 16, 2003

US to put pressure on Pak
May 15, 2003

29 killed in Saudi bombings
May 14, 2003

Mufti for 'softening' of LoC
May 13, 2003

13 die in Bengal poll violence
May 12, 2003

Terror must end, India tells US
May 11, 2003

India differs with Armitage
May 10, 2003

Vajpayee rules out denuclearisation
May 9, 2003

Menon's name as envoy sent
May 8, 2003

Brajesh meets Armitage on way to USA
May 7, 2003