HOROSCOPE
THE TRIBUNE MAGAZINES
On alternate Mondays

On Sundays
On Saturdays
IN PASSING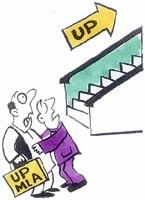 No need to worry. This is not the way to U.P.

by Sandeep Joshi
(L to R) Giani Joginder Singh Vedanti, Jathedar, Akal Takht, Bhai Manjit Singh, senior Akali leader, Mr Karnal Singh Pir Mohammed, president, AISSF (Pir Mohammed), and (extreme right) Dr Jagjit Singh Chohan, "Khalistan" ideologue at a function in memory of Sant Jarnail Singh Bhindranwale at Amritsar on Friday.
— photo Rajiv Sharma
Dalit women say no to bonded labour
Mansa, June 6
"The Dalits are being sold by the upper class in Dalel Singh Wala village in the district," said Mr Jai Singh, national president of the Dalit Dasta Virodhi Andolan.
Heatwave kills one more in Haryana
Chandigarh, June 6
Sizzling heatwave conditions were revived again today in the entire north-west region after a day's respite, which claimed the life of a 40-year-old woman in Mandi Adampur of Hisar district, taking the toll to four each in Haryana and Punjab since last Monday.

Nation page: Heatwave toll 1,350
Police opens fire to quell unruly mobs
Hyderabad, June 6
The police opened fire at some places in the Old City of Hyderabad today to disperse unruly mobs indulging in stone-throwing and damaging public and private properties, injuring several people, including two policemen.

In video (28k, 56k)


'Unfit' water being supplied
Hamirpur, June 6
Residents of Hamirpur town have been getting unfiltered and yellow drinking water these days, considered unfit for human consumption. The water is being lifted from the Beas and filtered temporarily in the filter beds of the old water supply scheme for the National Institute of Technology, Hamirpur, as the filter tank for the town's scheme is under construction.

Himachal Pradesh: More water tankers needed

An under-construction filter tank at Longni Mathan, near Sujanpurtira.
— photo Chander Shekhar Sharma
12 hurt in Jat-Dalit clash
June 6, 2003

88 more die of heatwave
June 5, 2003

Pilot dies in MiG-21 crash
June 4, 2003

World leaders support India on terrorism
June 3, 2003

Bush agrees with PM's peace terms
June 2, 2003

Ties with India tops China agenda
June 1, 2003


Govt vacillating on Pak: Sonia
May 31, 2003


Vajpayee flays West's doublespeak
May 30, 2003

Atal rejects fresh decision on Kashmir
May 29, 2003

Jamali will hold talks with Vajpayee: Pervez
May 28, 2003

India sets rider for troops to Iraq
May 27, 2003

BJP moots job quota for upper caste poor
May 26, 2003

3 new Cabinet ministers sworn in
May 25, 2003