HOROSCOPE
THE TRIBUNE MAGAZINES
On alternate Mondays

On Sundays
On Saturdays
IN PASSING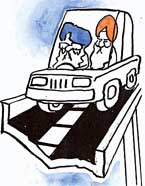 This is the right time to unite, Tohra ji!

by Sandeep Joshi
Pervez willing to meet Vajpayee
Says Pak doesn't trust India


New Delhi, June 13
Pakistan President Pervez Musharraf has said he would be "more than willing" to meet Prime Minister Atal Bihari Vajpayee and lead the peace talks.


Editorial: Resolve through dialogue
Terror from Pak has not ended: US envoy
New Delhi, June 13


In an unusually candid admission, the USA today accepted that Pakistan had not stopped cross-border terrorism against India and stoutly denied that Washington was applying any pressure on New Delhi to send its troops to Iraq.


Pak rules out N-rollback
BJP for consensus on sending troops to Iraq
New Delhi, June 13
The BJP, which has been candid in asserting that criticising the USA from the rooftop on Iraq will not help India, has been politically forced to tread on the consensus route on the issue of committing Indian troops in Iraq.
Saddam's 'threat' to foreigners in Iraq
Dubai, June 13


Saddam Hussain, whose fate is unknown, has issued an ultimatum to foreigners to leave Iraq and threatened attacks in countries and on planes of the US-led coalition, in a letter purportedly signed by him to be published tomorrow in the pan-Arab daily Al-Quds Al-Arabi.
Let peace not be hostage: Advani


Chicago, June 13
Deputy Prime Minister L.K. Advani today called upon Pakistan to discuss issues and hammer out the differences, so that the killing of innocent persons is stopped immediately.


Editorial: A fulfilling trip

Edit page: Advani sews up strategic partnership
Badal's ex-PA moves SC for bail
New Delhi, June 13
Former Punjab Chief Minister Parkash Singh Badal's former personal assistant Hardeep Singh, facing a corruption case for allegedly acquiring assets disproportionate to his known sources of income, has moved the Supreme Court for anticipatory bail.
Pak epicentre of terror: Advani
June 13, 2003

2 'skeletons' found, team begins probe
June 12, 2003

Pak yet to respond: Advani
June 11, 2003

SC refuses to intervene
June 10, 2003

Cops descend on Talhan
June 9, 2003

Mosque demolished at Advani's instance: accused
June 8, 2003

Talhan, Jalandhar remain tense
June 7, 2003

12 hurt in Jat-Dalit clash
June 6, 2003

88 more die of heatwave
June 5, 2003

Pilot dies in MiG-21 crash
June 4, 2003

World leaders support India on terrorism
June 3, 2003