AGRICULTURE
EDUCATION
HEALTH
SCIENCE
CAREER GUIDE
SPORTS
HER WORLD
TRIBUNE CLASSIFIEDS
SAD men wait in vain for vigilance sleuths

Centre can take action against Punjab Govt: Badal

Punjab page: Vigilance to grill Sukhbir soon

Deputy Prime Minister L.K. Advani is presented a shawl by a Sikh delegation in New Delhi on Thursday.
— PTI photo
BJP trying to revive Badal: Amarinder
New Delhi, July 3
The Punjab Chief Minister, Capt Amarinder Singh, today said the BJP was "trying to rejuvenate" Shiromani Akali Dal chief Parkash Singh Badal with an eye on the Assembly elections in four states later this year.
HOROSCOPE
THE TRIBUNE MAGAZINES
On alternate Mondays

On Sundays
On Saturdays
IN PASSING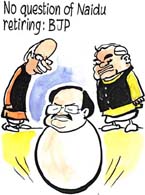 After vikas purush and lauh purush, we need a 'mulayam' purush also!

by Sandeep Joshi
Centre in no hurry to send troops
New Delhi, July 3
The Atal Bihari Vajpayee government is highly circumspect about sending an Indian stabilisation force to Iraq at this juncture. With consensus remaining a far cry, the issue has been put on the back burner and the central leadership is in no hurry to take a decision in this regard.
In video (28k, 56k)


World page: Grey areas in UN resolution: India
LCA set to cross sound barrier
New Delhi, July 3
Country's only indigenously designed multi-role light combat aircraft is all set to shatter the sound barrier in its next test flight due to take place in the coming few days. The Defence Research Development Organisation along with Hindustan Aeronautics Limited is working on the final details to push the LCA through the sound barrier which would mean a major achievement for the aircraft.
ASI gets five more weeks
Lucknow, July 3
The Lucknow Bench of the Allahabad High Court, hearing the Ram Janmabhoomi-Babri Masjid title suit, today gave five more weeks to the Archaeological Survey of India to complete the excavation in the disputed site at Ayodhya and directed the ASI to submit its report by August 22.
Water project sharpens Punjab-Sindh divide
New Delhi, July 3
The ambitious but politically ill-advised Greater Thal Canal project in Pakistan is threatening to snowball into a major problem for the Pervez Musharraf regime and the Pakistani press has warned that a "war for water" among the different provinces was looming large.


Varsity with 1 prof, 6 lecturers
PU Vice-Chancellor writes to AIU
Amritsar, July 3
Ever heard of a university of science and technology running with one professor and six lecturers? It may sound strange, but it is true in the case of Dr C.V. Raman University of Science, Technology, Commerce Management and Management, Raipur. The university covers Chattisgarh, and offers distance education too.
In Career Guide today
18 killed as Golconda Express derails
July 3, 2003
'Someone blocking defence procurement'
July 2, 2003
Pak envoy arrives
July 1, 2003
Two die in poll violence
June 30, 2003
12 soldiers killed in suicide attack
June 29, 2003
Vajpayee rejects US roadmap on Kashmir
June 28, 2003
PM calls for India-China 'alliance' in IT
June 27, 2003
Pervez to end infiltration: US official
June 26, 2003
India: Tibet Autonomous Region part of China
June 25, 2003
India, China sign accord
June 24, 2003