AGRICULTURE
EDUCATION
HEALTH
SCIENCE & TECHNOLOGY
CAREER GUIDE
SPORTS
HER WORLD
TRIBUNE CLASSIFIEDS
Vajpayee rejects Nitish Kumar's resignation


New Delhi, July 14
Within 30 minutes of announcing his decision to resign at the end of a two-day open session of the Samata Party here today, Railway Minister Nitish Kumar tendered his resignation to the Prime Minister.

Former RSS chief passes away
Pune, July 14
Former RSS chief Rajendra Singh, popularly known as Rajju Bhaiyya, died here today following a prolonged illness. A bachelor, the 81-year-old former RSS chief is survived by his brother. The last rites would be performed here tomorrow.


OBITUARY: From N-physicist to RSS chief
Cong to probe Badal's overseas assets
New Delhi, July 14
Asking BJP chief Venkaiah Naidu not to advise the Congress-ruled states on issues of governance, Punjab Chief Minister Capt Amarinder Singh today said that his government was in the process of unravelling "overseas assets" of SAD chief Parkash Singh Badal.


Second raid on Sukhbir's resort

In Education Tribune today
HOROSCOPE
THE TRIBUNE MAGAZINES
On alternate Mondays

On Sundays
On Saturdays
IN PASSING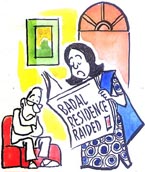 What kind of politician is he? Nothing objectionable was found in the raids.

by Sandeep Joshi
J.S. Gill to be Punjab Chief Secy
Chandigarh, July 14
Mr Jai Singh Gill, an IAS officer of the1968 batch, is to be the next Chief Secretary of Punjab. He is currently on deputation to the Central Government, as Secretary, Steel.
Golden Temple land for SGPC staff
Amritsar, July 14
The Shiromani Gurdwara Parbandhak Committee has decided to allot the prime land (Golden Avenue) worth crores, belonging to Darbar Sahib, to its employees at a throwaway price.
Rs 55 crore for galiara Yojana
New Delhi, July 14
After dithering for months, the Union Government today agreed to provide Rs 55 crore for the fourth phase of "Galiara Yojna" at the Golden Temple in Amritsar.
Badungar may step down today
Tohra man Calcutta may step in
New Delhi, July 14
The SGPC president, Mr Kirpal Singh Badungar, is likely to step down from his post tomorrow, highly-placed sources said today. The SGPC may publicly announce his decision at akhand path in Manji Sahib or soon after at a closed-door meeting of Akali leaders, including Mr Parkash Singh Badal and Mr Gurcharan Singh Tohra.


Special loan rate for farmers on anvil
New Delhi, July 14
The Centre is likely to announce a special lending rate structure for the farm sector this week which can mark the beginning of a declining interest rate regime for the credit-starved agri sector.
Musharraf has vested interest in instability: Gujral
July 14, 2003
India rejects Pak terms for resuming air links
July 13, 2003
Peace journey begins
July 12, 2003
VP Singh: Bajrang Dal, RSS following ISI agenda
July 11, 2003
Cong open to pacts with secular parties
July 10, 2003
Cong for quota in private sector
July 9, 2003
Cong ready for poll: Sonia
July 8, 2003
Muslim board rejects formula
July 7, 2003
Give Ayodhya, Mathura, Kashi to Hindus: RSS
July 6, 2003
J&K minister hurt in attack
July 5, 2003