Panel refuses to give findings on Kargil purchases
New Delhi, August 6
The Public Accounts Committee of Parliament today did not put forward its findings on the Kargil purchases irregularities due to "refusal" by the Ministry of Defence to provide the committee with the Central Vigilance Commission report on the matter.


Nation page: Kargil fund still unused in MP
Kinnaur district cut off
Flash floods wash away bridge, roads
Shimla, August 6
The entire Kinnaur district was cut off after flash floods in the Baruni and Roplu khads washed away a bridge on the Hindustan-Tibet highway and vast stretches of road near Jhakri today. According to reports reaching here there were 18 major landslides between Jhakri and Jeori on a 12 km stretch of road.
Human traffickers evade arrest
Sale of tribal girls
Nawanshahr, August 6
The police today conducted unsuccessful raids to arrest the father-son duo, alleged to be the main agents who operate the human trafficking racket, on their 'dera' at Bhin village.
Earlier story (Wednesday): 3 tribal girls sold for Rs 2,000 each


Editorial: Trading in misery
THE TRIBUNE MAGAZINES
On alternate Mondays

On Sundays
On Saturdays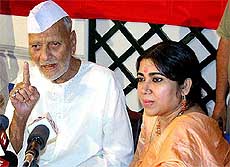 Ustad Bismillah Khan and his adopted daughter Soma Ghosh talk to the media in New Delhi on Wednesday. — PTI photo
Bismillah Khan to perform in Parliament today
New Delhi, August 6
Benares-based shehnai maestro Ustad Bismillah Khan's life revolves around music. It is perhaps this passion that has lent the frail octogenarian the strength to fulfil his desire to perform for parliamentarians at Parliament House on Thursday.
Teacher suspended for beating up students
Amritsar, August 6
The District Education Officer (Secondary) today suspended the drawing teacher, Mr Kuldip Singh, who had allegedly severely beaten up 60 students yesterday.
Earlier story (Wednesday): Children beaten up, kicked in Amritsar school

Coca Cola, Pepsi banned in Parliament
New Delhi, August 6
Reacting to the alarming findings of the Centre for Science and Environment on the presence of pesticides and insecticides in Coca Cola, Pepsi and other popular brands of aerated drinks, Lok Sabha members today demanded an immediate ban on these.


Editorial: Soft drinks or slow poison?

Chandigarh page: Schools ban Coke, Pepsi


Human rights panel flouted procedures, say members
New Delhi, August 6
The National Commission for Scheduled Castes and Scheduled Tribes, the National Commission for Women and the National Commission for Minorities have taken exception to the National Human Rights Commission summarily approaching the Supreme Court on July 31 for a retrial of the Best Bakery case.
In Science & Technology today
HOROSCOPE
5 die in copter crash near Srinagar
August 6, 2003
PM to quit rather than act under pressure
August 5, 2003
PM: no change in stand on Ayodhya
August 4, 2003
Advani: govt for simultaneous LS, Assembly poll
August 3, 2003
PM, Advani vow to build Ram temple
August 2, 2003
Babri tapes rock Parliament
August 1, 2003
No speech of Advani in Babri tapes
July 31, 2003
Mayawati eats her words
July 30, 2003
US Gen to plead for troops
July 29, 2003
Interest rate on farm loans cut
July 28, 2003