Devotees fall as they try to break through police barricades, resulting in a stampede during the third "Shahi Snan" at the Kumbh Mela in Trimbakeshwar, near Nashik, on Wednesday.
— Reuters photo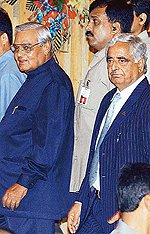 Lay down arms, come for talks, asserts PM
Srinagar, August 27
Promising "maximum help" to the people of Jammu and Kashmir for consolidating recent gains, Prime Minister Atal Bihari Vajpayee today said the Centre would intensify efforts to advance the dialogue process with those who rejected militancy and extreme positions.

Prime Minister Atal Bihari Vajpayee and Jammu and Kashmir Chief Minister Mufti Mohammad Sayeed arrive for the Inter-State Council meeting in Srinagar on Wednesday. — AFP photo

THE TRIBUNE MAGAZINES
On alternate Mondays

On Sundays
On Saturdays
J&K page:

Bandh affects life, separatist leaders held

Mufti downplays strike call

Conferences won't change Kashmir's status: Hurriyat

PM's visit raises residents' hopes

Jawan killed, DIG hurt in attack on CTO
Srinagar, August 27
A BSF jawan was killed and nine persons, including a BSF DIG, were injured as heavily-armed militants made a vain attempt to storm the Central Telegraph Office building here this evening, official sources said.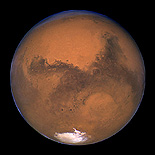 Mars at its dazzling best
NASA's Hubble Space Telescope took this snapshot of Mars 11 hours before the planet made its closest approach to Earth on August 26, 2003. The two planets are 55,760,220 km apart. This image was made from a series of exposures with Hubble's Wide Field and Planetary Camera 2. —Reuters
Click for graphic representation of Mars' position

Video (28k, 56k)

RDX used in Mumbai blasts, say experts
Mumbai, August 27
Investigators have found that high grade explosive — RDX — was used in Monday's twin blasts here that killed 52 persons and injured nearly 200, the police said.

14 BSP MLAs back Mulayam as CM
Lucknow, August 27
The BSP headed for a split as 14 party MLAs met the Uttar Pradesh Governor to request him to invite Samajwadi Party leader Mulayam Singh Yadav to form the government.

Video (28k, 56k)

Nation page:

BJP decides to sit in opposition

BJP denies tacit understanding with Samajwadi Party

Maya gave nod to Taj Corridor work,
finds CBI


New Delhi, August 27
The outgoing Chief Minister of Uttar Pradesh, Ms Mayawati, was involved in the go-ahead for the controversial Rs 175-crore Taj Heritage Corridor project, according to investigations by CBI.

In Science & Technology today
HOROSCOPE
Mayawati resigns, Mulayam stakes claim
August 27, 2003
Mumbai panics as twin blasts kill 46
August 26, 2003
Mufti for opening of border posts at Uri, Suchatgarh
August 25, 2003
Centre clears new pension scheme
August 24, 2003
Sushma Swaraj clears the air
August 23, 2003
Sushma Swaraj gives clean chit to Pepsi, Coke
August 22, 2003
20 hurt as police clashes with Khanna supporters
August 21, 2003
No-trust motion defeated
August 20, 2003
Oppn charges govt with all-round failure
August 19, 2003
Battlelines drawn for no-trust vote
August 18, 2003