HOROSCOPE
THE TRIBUNE MAGAZINES
On alternate Mondays

On Sundays
On Saturdays
IN PASSING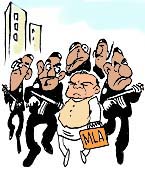 We will provide you Z plus, plus security till Mulayam Singhji proves his majority!

by Sandeep Joshi
Holed-up militant killed, 19 rescued
from hotel
Srinagar, August 28
At least four persons, including a militant-turned-politician, Javed Shah, were killed in a night-long operation after the militants made a vain attempt to storm the Central Telegraph Office in the Lal Chowk area here last evening.

Editorial: Terror unabated

Flames and smoke billow out from a hotel building where militants and security forces fought a gun-battle in Srinagar on Thursday. — Tribune photo Amin War

In video: Security has been intensified in Srinagar following Wednesday's militant attack. (28k, 56k)
SC commutes death sentence of Pak terrorists
Six Pak boys released
24 killed in Daman bridge collapse
Ahmedabad, August 28
At least 24 persons, 17 of them schoolchildren, were killed and 25 injured today when their vehicles plunged into the Damanganga river when a dilapidated bridge collapsed due to heavy rains in Daman and Diu.
Indo-Pak talks on air links grounded
New Delhi, August 28
It was virtually a dialogue of the deaf as the two-day India-Pakistan talks on the resumption of air links concluded in Rawalpindi today with both the sides agreeing to disagree with each other.
VC orders closure of Punjabi varsity
Patiala, August 28
The Punjabi University authorities today closed the university for an indefinite period and asked students to vacate the hostels, alleging that senior police officials, including the district police chief, had not responded to their distress calls.
Hema, Dara Singh, five others nominated
to RS



New Delhi, August 28
Reserve Bank of India Governor Bimal Jalan, noted film actress Hema Malini and journalist Chandan Mitra are among the seven prominent personalities who were nominated to the Rajya Sabha by the President today. Dara Singh Hema Malini


Higher pesticides in cola samples
New Delhi, August 28
Some of the soft drink samples from Pepsi and Coke contained much higher levels of pesticides like lindane and DDT than permissible under the European Union norms, reveal the findings of a government research institute.
In Career Guide today
39 killed in Nashik Kumbh stampede
August 28, 2003
Mayawati resigns, Mulayam stakes claim
August 27, 2003
Mumbai panics as twin blasts kill 46
August 26, 2003
Mufti for opening of border posts at Uri, Suchatgarh
August 25, 2003
Centre clears new pension scheme
August 24, 2003
Sushma Swaraj clears the air
August 23, 2003
Sushma Swaraj gives clean chit to Pepsi, Coke
August 22, 2003
20 hurt as police clashes with Khanna supporters
August 21, 2003
No-trust motion defeated
August 20, 2003
Oppn charges govt with all-round failure
August 19, 2003