Vajpayee hosts banquet in Sharon's honour
Sharon meets Kalam, lays wreath at Rajghat
New Delhi, September 9
The visiting Israeli Prime Minister, Mr Ariel Sharon, today said the purpose of his historic visit was to strengthen relations with India which he described as "an important country in the world".

In video (28k, 56k)


Security cover throws traffic out of gear

Protest unwarranted, says BJP

Warning to Muslims ahead of Sharon's visit
PUNJAB: Cops fail to arrest 3 named in ex-MLA's 'suicide' note


HARYANA: New police force in Haryana soon


J&K: 10-year-old killed in blast; ex-minister escapes bid on life


HIMACHAL: 500-cr project for elementary education


NATIONAL CAPITAL REGION: Mayawati proposes, Mulayam Singh disposes


CHANDIGARH: Rivals enter scuffle at Govt College

EDIT: Flawed justice system

SPORTS: Seniors clash with India A
HOROSCOPE
TRIBUNE SPECIAL

State of universities
The Tribune has a close look at the state of universities in Punjab, Haryana and
Himachal Pradesh

THE TRIBUNE MAGAZINES
On alternate Mondays

On Sundays
On Saturdays
IN PASSING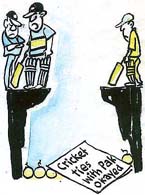 Don't you think we need a better pitch before resuming Indo-Pak ties?

by Sandeep Joshi
India steps up attack on USA, EU
Jaitley in Mexico for WTO meet
Cancun (Mexico), September 9
The five-day ministerial meeting of the World Trade Organisation (WTO) begins here tomorrow to find a common ground on contentious issues like farm subsidies as India stepped up attack on the USA and the European Union (EU), accusing them of being responsible for depressing farm prices in developing countries.
Cong, SAD lay claim to Abdul Hamid
Hold parallel rallies to pay homage
Asal Uttar (Amritsar), September 9
Salvos were fired at parallel rallies organised by the Congress and the Shiromani Akali Dal here today which marred the 38th martyrdom of Havildar Abdul Hamid who had knocked out three Pakistani Patton tanks single-handed apart from disabling the fourth during the Indo-Pak war in 1965.

Nation page

Honour for Abdul Hamid's kin
PM's talks offer to Hurriyat stands
New Delhi, September 9
The Centre's special gesture last month during the meeting of the Inter-State Council in Srinagar that the political leadership is willing to hold discussions with the All-Party Hurriyat Conference (APHC) stands despite Pakistan's machinations to split the separatist conglomerate and foist a hardliner at its helm.
J&K Govt takes over Muslim Auqaf Trust
Srinagar, September 9
The coalition government has wrested control of all assets of the Muslim Auqaf Trust that looks after 89 shrines in Jammu and Kashmir and has constituted a body to look after the affairs of these assets and properties.


Freed prisoners narrate tales of suffering, indifference
Barara (Ambala), September 9
"We were stuffed into a container without any ventilation or light for our journey towards greener pastures", say illegal immigrants who have returned to India from Pakistan.

Inderjeet Singh of Barara (Ambala) with a child after his release from a jail in Pakistan. — Photo by Neeraj Chopra
IN FOCUS
In our series, State of Universities, Assistant Editor V. Eshwar Anand examines the functioning of Dr Y.S. Parmar University of Horticulture and Forestry at Nauni, Himachal Pradesh,
on Edit page.
Mamata returns sans portfolio
September 9, 2003

Mamata to be reinducted into Cabinet today
September 8, 2003

8 killed in Srinagar blast
September 7, 2003

BSP heads for split
in UP
September 6, 2003

Kalam calls for second Green Revolution
September 5, 2003

Govt clears 8000-cr Hawk deal
September 4, 2003

Day of terror in J&K
September 3, 2003

SC refuses to stay Babri trial
September 2, 2003

Five arrested for Mumbai blasts
September 1, 2003
Mastermind of Parliament attack Gazi Baba killed
August 31, 2003