HOROSCOPE
Developing nations score point at WTO
Cancun (Mexico), September 11
As trade negotiators from 146 countries got down to tough negotiations in key problem areas, developing countries, including India, scored a major point when their draft proposals on the contentious agricultural issues were agreed to be taken up for discussion by the WTO conference.
Two killed, 22 injured in Srinagar grenade blast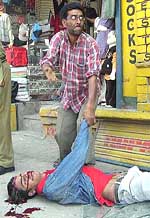 Army men kill 10 foreign terrorists in Poonch dist
Srinagar, September 11
Two persons, including a student of the local Women's College, were killed and 22 others, including a jawan, injured when militants hurled a grenade in the Lal Chowk area here today.
A civilian lends a helping hand to a critically injured person at Lal Chowk in Srinagar after a grenade blast on Thursday. — PTI photo

Musharraf's commando-style politics


Pakistan's former Prime Minister Benazir Bhutto exposes the controversial style of functioning of Gen Pervez Musharraf by pointing out that he has been undermining that country's institutions by ignoring consensus on all major issues. Her article, "Commando-style politics", appears on Edit page.
TRIBUNE SPECIAL

State of universities
The Tribune has a close look at the state of universities in Punjab, Haryana and
Himachal Pradesh

THE TRIBUNE MAGAZINES
On alternate Mondays

On Sundays
On Saturdays
J&K minister Zargar quits
Jammu, September 11
The Agriculture Minister, Mr Abdul Aziz Zargar, today announced his resignation following allegations that the plan to attack the Akshardham temple in Gujarat was finalised by terrorists at his house in south Kashmir.
J&K page: Minister not linked with terrorists, says Mufti
UK not to mediate on Kashmir, says Sir Rob Young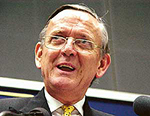 Chandigarh, September 11
The British High Commissioner in India, Sir Rob Young, today said that there was no question of mediation on Kashmir, an issue between India and Pakistan that had to be solved by the two countries.
Sir Rob Young, British High Commissioner in India, speaks on 'Indo-UK bilateral relations' at the CII in Chandigarh on Thursday.
— Tribune photo by Pankaj Sharma

India says no to sending troops to Iraq
New Delhi, September 11
Even as India has turned down a US request to send troops to Liberia, it has allayed Israel's misgivings that the hi-tech defence equipment being made available to this country might worm its way to Iran.
SC raps CBI for delay in Taj Corridor scam
New Delhi, September 11
Expressing dissatisfaction over the CBI's line of probe into the Rs 175-crore Taj Heritage Corridor project allegedly sanctioned by the previous Mayawati government in violation of rules, the Supreme Court today directed the agency to identify the assets of the four persons named by it in its report and find out the end beneficiaries of Rs 17 crore released by the state.


One-time settlement scheme
Bonanza for building bylaws violators in Punjab
Chandigarh, September 11
The Punjab Council of Ministers today approved a one-time voluntary disclosure and settlement scheme for the building bylaws violations in the urban areas. The Local Bodies Department has been asked to prepare the modalities of settlement for circulation among the municipal committees.
In Career Guide today
India, Israel vow to end terror
September 11, 2003

India, Israel to fight global terrorism
September 10, 2003

Mamata returns sans portfolio
September 9, 2003

Mamata to be reinducted into Cabinet today
September 8, 2003

8 killed in Srinagar blast
September 7, 2003

BSP heads for split
in UP
September 6, 2003

Kalam calls for second Green Revolution
September 5, 2003

Govt clears 8000-cr Hawk deal
September 4, 2003

Day of terror in J&K
September 3, 2003

SC refuses to stay Babri trial
September 2, 2003