Maruti Udyog
Maruti expands market to rural areas, says Mr Jagdish Khattar, Managing Director of Maruti Udyog Limited, in an exclusive interview which appears on Business page.

In video (28k, 56k)

The wailing daughter (centre) of Mohammed Yousaf Parray, alias Kukka Parray, is consoled by relatives after his killing by militants in Hajan, 40 km from Srinagar, on Saturday.
— Reuters photo
RSS ropes in Advani on Ayodhya
Distances Vajpayee
New Delhi, September 13
In a do or die battle on Ayodhya, the Sangh Parivar has roped in Deputy Prime Minister L. K. Advani in its plan while distancing Prime Minister Atal Bihari Vajpayee. Mr Advani is our pointman for a Ram temple in Ayodhya, a clear signal has been given to the sangh followers by RSS supremo K. Sudarshan.
Progress on trade talks in Cancun
Cancun (Mexico), September 13
After burning the midnight oil, 146 trade ministers were close to finalising the draft text on the contentious agriculture issue on the third day of the WTO ministerial that is expected to incorporate some of the concerns of developing countries, including India.

In video (28k, 56k)


WTO draft calls for end to export subsidies
In Her World today
TRIBUNE SPECIAL

State of universities
The Tribune has a close look at the state of universities in Punjab, Haryana and
Himachal Pradesh

THE TRIBUNE MAGAZINES
On alternate Mondays

On Sundays
On Saturdays
Hunt on for Mumbai bomber's aides
Mumbai, September 13
Hours after the police shot dead the mastermind behind a series of bomb blasts here, a hunt is on for his associates, according to the city's police Commissioner Ranjit Sharma. Briefing reporters here, Mr Sharma said the man, identified as Abdul Rehman Sayeed Ali Aydeed, alias Nasir, was a recruiter for Pakistan-based terrorist organisation Lashkar-e-Toiba.
Diarrhoea death toll rises to 10
Yamunanagar, September 13
Death toll due to the outbreak of diarrhoea has risen to 10 and nine persons have been hospitalised so far. According to Mr Naresh Sharma, Civil Surgeon, preventive measures have been taken to control the spread of the disease.


Traffic disrupted on Kalka-Shimla highway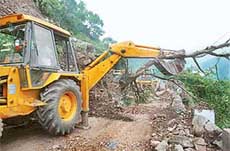 Solan, September 13
Commuters plying on the Kalka-Shimla national highway had a tough time last evening as the traffic remained disrupted for more than seven hours due to the massive landslide.
An earth mover clears the site of landslide which has blocked traffic on the Panchkula-Shimla highway near Parwanoo on Saturday.
— Tribune photo by Karam Singh


Eyewitnesses' evidence to get priority
New Delhi, September 13
The statements of eyewitnesses would get precedence over all other evidences in a murder case, the Supreme Court has ruled. It also directed the courts below that their endeavour should be to assess them first to find out if the prosecution case is acceptable or not.
HOROSCOPE
Quit if you can't protect citizens, SC tells Modi govt
September 13, 2003

Al-Qaida vows more attacks
September 12, 2003


India, Israel vow to end terror
September 11, 2003

India, Israel to fight global terrorism
September 10, 2003

Mamata returns sans portfolio
September 9, 2003

Mamata to be reinducted into Cabinet today
September 8, 2003

8 killed in Srinagar blast
September 7, 2003

BSP heads for split
in UP
September 6, 2003

Kalam calls for second Green Revolution
September 5, 2003

Govt clears 8000-cr Hawk deal
September 4, 2003