HOROSCOPE
Editorial: Triumph of justice



Dara Singh is surrounded by police officers as he arrives at a special court in Bhubaneswar on Monday. — AFP photo

In video(28k, 56k)
VHP ultimatum to Centre on Ram temple
New Delhi, September 15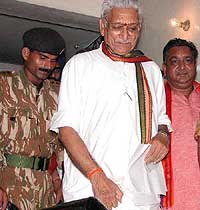 Setting the agenda for the coming elections in the country, the Vishwa Hindu Parishad today served an ultimatum on the Centre that it would launch a countrywide agitation if the government failed to bring in a legislation for Ram temple in Ayodhya by October 15.


VHP International President Ashok Singhal comes out after attending a party meeting in New Delhi on Monday. — PTI photo

PUNJAB: CPI rejects WTO policies


HARYANA: Jhajjar farmlands flooded


HIMACHAL: HC appoints stop-gap Registrar


NATIONAL CAPITAL REGION: A half-forgotten pledge comes to haunt Congress


CHANDIGARH: Dalit protesters canecharged


EDIT: Triumph of justice


SPORTS: Pak beat Bangladesh

In Education Tribune today
IN FOCUS
In our series, State of Universities, Assistant Editor Nirmal Sandhu examines the functioning of Guru Jambeshwar University, Hisar, on the Edit page.

TRIBUNE SPECIAL

State of universities
The Tribune has a close look at the state of universities in Punjab, Haryana and
Himachal Pradesh

THE TRIBUNE MAGAZINES
On alternate Mondays

On Sundays
On Saturdays
IN PASSING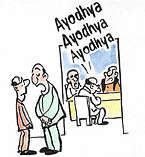 Whose campaign meeting is it — the BJP's or the Opposition's?

by Sandeep Joshi
Cancun talks fail over North-South differences
Cancun, September 15
A bitter North-South rift over industrialised nations' demands for taking up contentious issues like trade and investment overriding agriculture spelt doom for the fifth Ministerial Conference of the WTO, which collapsed without coming out with a final declaration.
Geelani heads breakaway Hurriyat group


Srinagar, September 15
Senior separatist leader Syed Ali Shah Geelani has been unanimously elected chairman of the breakaway group of the Hurriyat Conference, a week after the split in the separatist conglomerate. An announcement to this effect was made by interim chairman Masarrat Alam Bhat in the presence of Geelani here this afternoon.

In video (28k, 56k)


SGPC secy's certificate bogus?
PU says it is not of Harbeant
Amritsar, September 15
The beleaguered SGPC secretary, Mr Harbeant Singh, is in a fix following the fact finding report submitted by the flying squad which has found his matriculation certificate to be bogus. However, Mr Harbeant Singh has refuted the charge that his certificate was bogus as he has been working in the SGPC since 1968 on the basis of this certificate.



Kashmir's village of widows
Chuk Seer (Srinagar), September 15
In the twilight of her life, 60-year-old Sarah hears news about the death of some persons in Kashmir and sighs, "There, now we will have more widows and some orphans too." Tears well up in her eyes as she looks at four widows in her own family besides almost 40 others working outside in the fields or cursing their ill-luck sitting in a corner of the thatched huts in this unique 'village of widows' on the Srinagar-Baramula highway.

Ameena Bano (extreme right), with her two daughters, tells the tragic story of her life at her home in Chuk Seer village in Pattan. Her husband was killed by assailants on his farm.
— Tribune photo by
Amin War
India threatens to walk out of meeting
September 15, 2003

Kukka Parray shot dead
September 14, 2003

Quit if you can't protect citizens, SC tells Modi govt
September 13, 2003

Al-Qaida vows more attacks
September 12, 2003


India, Israel vow to end terror
September 11, 2003

India, Israel to fight global terrorism
September 10, 2003

Mamata returns sans portfolio
September 9, 2003

Mamata to be reinducted into Cabinet today
September 8, 2003

8 killed in Srinagar blast
September 7, 2003

BSP heads for split
in UP
September 6, 2003