Vajpayee says no to resignation
New Delhi, September 19


Prime Minister Atal Bihari Vajpayee is understood to have rejected Human Resource Development Minister Murli Manohar Joshi's resignation from the Council of Ministers. Dr Joshi, who submitted his resignation after the Rae Bareli special court verdict this afternoon, was asked by Mr Vajpayee to continue in office.
Oppn blames CBI for clean chit to Advani

Nation page: Kalyan's appearance before panel stayed

Vajpayee visits Turkey's 'Babri' mosque
Istanbul, September 19
Indian Prime Minister Atal Bihari Vajpayee today visited Istanbul's once famous Hajia Sophia Church, that had been controversially turned into a mosque-cum-museum by the founder of modern Turkey, Kemal Ataturk.
Business page: India, Turkey to boost trade

World page: Vajpayee leaves for New York
In Sports Tribune today
HOROSCOPE
TRIBUNE SPECIAL

State of universities
The Tribune has a close look at the state of universities in Punjab, Haryana and
Himachal Pradesh

THE TRIBUNE MAGAZINES
On alternate Mondays

On Sundays
On Saturdays
IN PASSING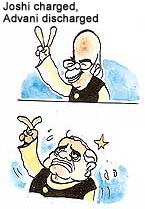 by Sandeep Joshi


Mayawati addresses a Press conference in New Delhi on Friday. — PTI photo
Maya praises Sonia, spits venom on PM
New Delhi, September 19
A day after the Supreme Court gave directions to register case in the Taj Corridor case, former Uttar Pradesh Chief Minister Mayawati today accused all democratic institutions of working in a 'politically motivated' manner to tarnish the image of the Bahujan Samaj Party and depressed section of society.
Editorial: Maya also in the net

Witnesses were won over: Gujarat Govt
New Delhi, September 19
The Narendra Modi government, blasted by the Supreme Court last week for 'failing' to fulfil its 'raj dharma' in securing justice to victims of Best Bakery carnage, today admitted before the apex court that witnesses who had turned hostile in the case were 'coerced or won over' by the accused persons and no steps were taken to re-examine them before the trial court by the prosecution.
Nation page: Zaheera's sister leaves Vadodara

Fever toll rises to 12, 11 more affected
Shimla, September 19
Preliminary investigations by the four-member team of the National Institute of Communicable Diseases indicate that the mysterious fever which has claimed 12 lives so far has been caused by a rickettsial disease. However, the team has not ruled out the possibility of enteric fever altogether.
Himachal page: Tetracycline gives relief from mysterious fever
Priyanka Gandhi's brother-in-law found dead
Lucknow, September 19
Richard Vadra, brother-in-law of Ms Priyanka Gandhi Vadra, was found dead at his residence in Moradabad this evening.


For people along LoC, it's an endless war
Sultan Dhaki (LoC), September 19
After the death of her two children, Shahin Begum, 22, is struggling to begin life afresh in this village on the LoC. Her boys —one 6-year-old and the other 4-year-old were killed before her in a round of shelling by Pakistan a few days ago. Her husband, an Army man, and she are now consulting military doctors to have another child.

A Gujjar woman Shaheen of Sultan Dhaki, near the Line of Control, who lost two of her sons in shelling from across the border, shows the damage caused by the shelling to her house.
— Tribune photo by Amin War
IN FOCUS

The concluding part of our series "State of universities" appears on Edit page. Assistant Editor Roopinder Singh examines the functioning of Panjab University, Chandigarh.

In all 12 universities in Punjab, Haryana and Himachal Pradesh have been covered. After monitoring the working of these universities for some months, The Tribune staffers will again visit them to find out whether something has been done to improve their functioning.
— Editor-in-Chief

SC tightens noose on Maya
September 19, 2003

Decision on troops after UN action: PM
September 18, 2003

SC stays disinvestment in HPCL, BPCL
September 17, 2003

Dara, 12 others convicted for killing Staines
September 16, 2003

India threatens to walk out of meeting
September 15, 2003

Kukka Parray shot dead
September 14, 2003

Quit if you can't protect citizens, SC tells Modi govt
September 13, 2003

Al-Qaida vows more attacks
September 12, 2003


India, Israel vow to end terror
September 11, 2003

India, Israel to fight global terrorism
September 10, 2003