HOROSCOPE
| | |
| --- | --- |
| | Defence Minister George Fernandes speaks at a seminar on Integrated Management of National Security organised in Chandigarh on Saturday. Also seen in the picture are Mr P. C. Dogra, Mr N. N. Vohra and Mr K. S. Sudershan. — Tribune photo by Manoj Mahajan |
SC castigates High Court
Restores trial court verdict
New Delhi, September 27
The Supreme Court has castigated the Punjab and Haryana High Court for acquitting two murder accused from Punjab given life sentence by the trial judge for brutally killing a man in broad daylight 11 years ago, saying they were let off on a "hypothetical" conclusion based on surmises and conjecture.
Tribunal raps Telecom Department
Roaming services by WLL operators
New Delhi, September 27
The slugfest between cellular and WLL operators was thrown back to the government's court with the Telecom Disputes Settlement and Apellate Tribunal today stating that it was the responsibility of the Department of Telecom to decide on the matter on grounds of being the licensing authority.
In Her World today
THE TRIBUNE MAGAZINES
On alternate Mondays

On Sundays
On Saturdays
IN PASSING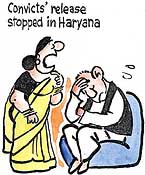 Now how do you plan to 'fight' the elections?

by Sandeep Joshi
We have no faith in PM, says Togadia
New Delhi, September 27
Vishwa Hindu Parishad leader Pravin Togadia today chose to attack the BJP aggressively on its own turf when he criticised Prime Minister Atal Bihari Vajpayee and lashed out at minorities at a meeting of the party's Minority Cell.
Amarmani evading lie-detector test
Moves bail application
New Delhi, September 27
Even as he has been declared medically fit by doctors, former Uttar Pradesh minister Amarmani Tripathi, arrested by the CBI in connection with the Madhumita Shukla murder case, is understood to be trying to evade the test citing health problems.


Meteor causes panic in Orissa
Bhubaneswar, September 27
Night turned into day for a few seconds as a huge ball of fire, believed to be a meteor, streaked across the sky in coastal Orissa causing panic among the people today. Official sources, admitting the occurrence of the phenomenon, said collectors of all districts where the fireball was sighted had been asked to report to the government about it.
Manpreet Badal booked in corruption case
Zira (Ferozepore), September 27
In an apparent move to tighten the noose around the Badal family, the local police has registered a case against the Gidderbaha MLA and SAD chief whip, Mr Manpreet Singh Badal along with Mr Jaijit Singh Jojo, Mr Darshan Singh Mudheer and others, for their alleged involvement in corruption and cheating a disciple of Dera Sekhwan in the subdivision.
Punjab page: No faith in VB, still I'll cooperate: Badal

Report on Badal's assets wrong: SAD


Depicting Pakistanis as demons
Chandigarh, September 27
Lord Rama killing the mythological multiheaded demon king Ravana who is wearing a Pakistani flag and standing atop Indian Parliament.


Ahmedabad- based Mohsin Shaikh, who paints Hindu Gods destroying Pakistani "demons", with his wife in Chandigarh on Saturday.
— A Tribune photograph
JCT turnaround
JCT rules out public issue, says Samir Thapar, Vice-Chairman and Managing Director, JCT Limited, in an exclusive interview which appears on Business page.

TRIBUNE SPECIAL

State of universities
A compendium of special articles on institutions of higher learning in Punjab, Haryana & Himachal Pradesh.

No bilateral talks with Pak at SAARC meet: PM
September 27, 2003

No negotiations on terrorism
September 26, 2003

PM, Bush discuss Iraq, terrorism
September 25, 2003

Let us increase Mission strength, India tells Pak
September 24, 2003

Dara sentenced to death in Staines murder case
September 23, 2003

RAW officer, 2 others killed in Rajouri blast
September 22, 2003

12 militants shot dead
September 21, 2003

Advani let off; Joshi to face charges
September 20, 2003

SC tightens noose on Maya
September 19, 2003

Decision on troops after UN action: PM
September 18, 2003