HOROSCOPE
Chandigarh is 50
CHANDIGARH, the nation's most modern and vibrant city, is celebrating its Golden Jubilee today. The Tribune, which has been associated with the growth of Chandigarh and has shared its joys and sorrows, is offering to its readers a Special Supplement — "Chandigarh is 50" — to celebrate the occasion.
THE TRIBUNE MAGAZINES
On alternate Mondays

On Sundays
On Saturdays
IN PASSING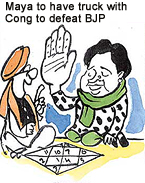 Behanji, this is Congress hand. Where is yours?

by Sandeep Joshi
Shamsher Mehndi being brought out of the Patiala district court complex after his police remand was extended on Tuesday.
— Photo by Subhash Patialvi
Delay in rolls can't invalidate poll, rules SC
New Delhi, October 7
In an important ruling, the Supreme Court has held that the election of a candidate cannot be held invalid for merely the non-publication of electoral rolls within the time limit specified for filing nomination papers.
Editorial: Assembly polls ahead


Badmouthing PM, Maya turns to Congress
New Delhi, October 7
A day after the Central Bureau of Investigation filed the FIR in the Taj Heritage Corridor case, former Uttar Pradesh Chief Minister and BSP President, Mayawati today launched a scathing attack on Prime Minister Atal Bihari Vajpayee, blaming him squarely for the FIR and using the premier investigation agency to meet political ends.
Former Chief Minister of Uttar Pradesh and BSP President Mayawati addresses a press conference in New Delhi on Tuesday. — Tribune photo by Mukesh Aggarwal

Fly ash flows into Sutlej
Power generation may be hit
Ropar, October 7
A major ecological catastrophe occurred today with thousands of tonnes of fly ash flowing into the Sutlej river in the international wetland area here from a breach in the stage-1 dyke of the Guru Gobind Singh Super Thermal Plant Ropar. Sources here said that the breach in the dyke started at about 1.30 pm today. Till the filing of this report the breach in the 12-feet-deep dyke, spread over an area of about 200 acres, had widened to about 25 metre out of which thousands of tonnes fly ash was flowing into the Sutlej river through the Ghauli drain.
In Health Tribune today
5 states go to polls on Nov 20, Dec 1
October 7, 2003

Israeli jets hit camp near Damascus
October 6, 2003

Government warns telecom operators
October 5, 2003

Mulayam's Cabinet now has 98 members
October 4, 2003

6 rights activists detained
October 3, 2003

Naidu injured in mine blast
October 2, 2003

Joshi's resignation rejected
October 1, 2003

Al-Qaida's call to topple Musharraf
September 30, 2003

India beat Pak, lift Asia Cup
September 29, 2003

2 cr Bangladeshis in India: Fernandes
September 28, 2003