IN FOCUS
In our series, State of Medical Institutions Assistant Editor Nirmal Sandhu examines the functioning of Amritsar Government Dental College on Opinions page.

THE TRIBUNE MAGAZINES
On alternate Mondays

On Sundays
On Saturdays
IN PASSING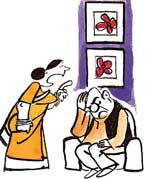 Overlooked for chief-ministership again. Didn't I tell you to be a permanent dissident?

by Sandeep Joshi
J&K page:
17 terrorists surrender

Two girls mourn the death of their relatives who were killed when holed-up militants exchanged fire with the security forces in Akhnoor village near Jammu on Tuesday night. — Reuters photo
PM rules out demand for greater Nagaland
Kohima, October 29
Prime Minister Atal Bihari Vajpayee today virtually ruled out the demand for greater Nagaland, saying there was no political consensus for changing boundaries of states in the North-East.


Editorial: Reaching out to Nagaland

Sonia tells Amarinder to change advisers


New Delhi, October 29
Amid reports of a turf war in the Punjab Congress Legislature Party, state Chief Minister Capt Amarinder Singh met the party's central leaders in the Capital today to apprise them of the political situation in the state.


No order from high command: CM


Biggest solar flares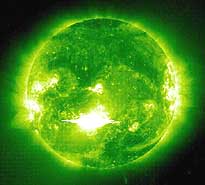 A photo made available in London on Tuesday of one of the biggest solar flares in living memory which erupted from the Sun, threatening to disrupt power and communications of Earth. After a week of intense activity on the Sun a massive flare bust from the star, according to space weather scientists in America and Europe. Superheated gas and energy called a coronal mass ejection, exploded from the Sun's surface travelling at five million miles per hour.— AP/PTI

---
Brahmos tested successfully
New Delhi, October 29
India today successfully test-fired the universal supersonic cruise missile, Brahmos from the Interim Test Range at Chandipur-on-sea, about 15 km from Balasore in Orissa.


Agni-III tests put off till next year
Tahira greeted with 'aarti'
Amritsar, October 29
It was a delightful moment for Tahira who was greeted in the traditional Indian way. "It is a pleasant surprise for me", said Tahira Hazur when Hindu and Sikh women performed an 'aarti' when she entered the house of Sanjeev Tangri here today.


Editorial: Cross-border love

In Science & Technology today
1 dead, 37 hurt in Srinagar CTO blast
October 29, 2003

Series of explosions rock Baghdad, 37 dead
October 28, 2003

Pak response to peace moves by next week
October 27, 2003

Talks not at cost of unity, says Advani
October 25, 2003

Hurriyat cautious
October 24, 2003

Fresh move to improve ties with Pakistan
October 23, 2003

Govt raises ceiling on poll expenses
October 22, 2003

Militants take eight villagers hostage
October 21, 2003

Pope beatifies Mother Teresa
October 20, 2003