In Career Guide today
THE TRIBUNE MAGAZINES
On alternate Mondays

On Sundays
On Saturdays
IN PASSING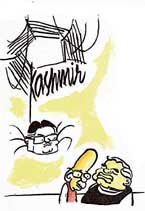 Caught in his own web!

by Sandeep Joshi
Samata Party, JD (U) announce merger
New Delhi, October 30
Putting aside their differences, the Samata Party and the Janata Dal (United) today announced their merger ahead of the Assembly poll in five states. The party, post-merger, has been rechristened the Janata Dal (United) and will work under the leadership of the Samata Party President and Defence Minister, Mr George Fernandes.

In video (28k, 56k)
Liquor vends closed after Tribune report
Chandigarh, October 30
Liquor vends, both of Indian-made foreign liquor and country liquor, dotting national and state highways, were yesterday ordered to be closed. However, some of them reopened today.
As if a fresh coat of paint was not enough, officials of the Excise Department put ''crosses'' to declare this vend 'out of bonds' for consumers. This picture was taken by Karam Singh on the Chandigarh-Banur road on Thursday.
35 ultrasound machines sealed in Haryana
Chandigarh, October 30
The Haryana Health Department has sealed 35 ultrasound machines for allegedly conducting sex determination tests. The action came after a special task force constituted to enforce the Pre-Natal Diagnostic Test Act raided several ultrasound centres in Narwana, Jind, Kurukshetra, Hisar and Ambala.


Haryana page: Registration of ultrasound centre cancelled


Now, Qadian girl awaits marriage in Pak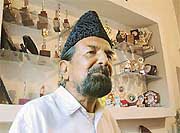 Qadian (Amritsar), October 30
Tahira, a Pakistani national, was lucky to get marriage visa by the Indian High Commission.

Mr Sheikh Abdul Qadeer, helpless father of Nasirk Parwin Hai of Qadian, who could not be granted visa even after two years of her "Nikah" with a Pakistani boy. — Photo by Rajiv Sharma


Pak accepts proposals, but harps on Kashmir
October 30, 2003

1 dead, 37 hurt in Srinagar CTO blast
October 29, 2003

Series of explosions rock Baghdad, 37 dead
October 28, 2003

Pak response to peace moves by next week
October 27, 2003

Talks not at cost of unity, says Advani
October 25, 2003

Hurriyat cautious
October 24, 2003

Fresh move to improve ties with Pakistan
October 23, 2003

Govt raises ceiling on poll expenses
October 22, 2003

Militants take eight villagers hostage
October 21, 2003

Pope beatifies Mother Teresa
October 20, 2003