In Health Tribune today
THE TRIBUNE MAGAZINES
On alternate Mondays

On Sundays
On Saturdays
IN PASSING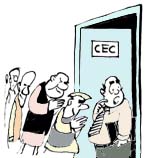 All parties want video camera as election symbol.

by Sandeep Joshi
UP Govt files fresh affidavit in Ayodhya case


New Delhi, November 18
The Uttar Pradesh Government today filed a fresh affidavit in the Supreme Court amending its stand taken in a petition challenging the filing of a supplementary chargesheet by CBI dropping conspiracy charges against top BJP leaders in the Ayodhya demolition case.
Editorial: Mulayam's flip-flop
SC transfers Jaya trial outside TN
New Delhi, November 18


In a major jolt to Tamil Nadu Chief Minister J. Jayalalithaa, the Supreme Court today ordered trial against her in a special court at Bangalore in two corruption cases pertaining to alleged acquiring of assets worth Rs 66.65 crore by her.
CBI enquiry does not name Judeo as accused
New Delhi, November 18
A day after Prime Minister Atal Bihari Vajpayee ordered a probe into the Judeo videotape controversy, the CBI registered a preliminary enquiry today after it received a note from the Cabinet Secretariat.
Nation page: Judeo was not candidate for CM's post, says Naidu

Attack on CRPF camp, jawan killed
Srinagar, November 18
A CRPF jawan was killed and two others injured in a suicide attack here this evening by militants on a CRPF camp at Indira Nagar, near the BB Cantonment, where the strategic 15 Corps of the Army is located.
Jammu-Srinagar road closed
Jammu, November 18
The 300-km Jammu-Srinagar national highway has been closed since last night due to landslides following snowfall and heavy rains in the state, official sources said here today.


Pak accuses India of using pressure tactics
Islamabad, November 18
Pakistan today charged India with using "pressure tactics" by delaying confirmation of Prime Minister Atal Bihari Vajpayee's participation in the SAARC summit here in January next year in order to force Islamabad to restore airlinks prior to his visit.
Judeo out, CBI probe on
November 18, 2003

Judeo to go if found guilty, says PM
November 17, 2003

Israeli troops must pull out, says Vajpayee
November 16, 2003

India to base planes in Tajikistan
November 15, 2003


Stop terror influx, Russia tells Pak
November 14, 2003


PM, Putin vow to fight terror
November 13, 2003


Russia for lifting N-sanctions
November 12, 2003

SC stays arrest of journalists of
The Hindu
November 11, 2003

Suicide bombers kill 11 in Riyadh
November 10, 2003

Press across nation rallies behind The Hindu
November 9, 2003

Death penalty for Sushil Sharma in 'tandoor' case
November 8, 2003


19 hacked, burnt in tea garden clash
November 7, 2003