THE TRIBUNE MAGAZINES
On alternate Mondays

On Sundays
On Saturdays
IN PASSING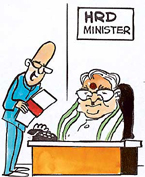 Sir, should we request the Health Ministry to lend us a few CAT-Scanners?

by Sandeep Joshi
Haryana page: Month of legal setbacks to Chautala govt

Sinha relieved of Vigilance charge
Chandigarh, November 25
In a significant decision, the Punjab Government tonight restored the Department of Vigilance to the Chief Secretary, Mr J.S. Gill, thus relieving Principal Secretary to the Chief Minister, Mr S.K. Sinha, of this additional charge in a major administrative reshuffle ordered tonight.

Eminent citizens call for dialogue in Assam
New Delhi, November 25
Cutting across party lines, eminent citizens from different walks of life, including a Cabinet Minister and an Opposition leader, former governors of Assam and Manipur, editors, journalists, social workers and intellectuals, today called for an end to the confrontation in Assam and the return of "a sense of healing, trust and confidence" to the state.

In video: RJD chief Laloo Prasad Yadav appeals to the nation to come together to restore normalcy in Assam. (28k, 56k)


Nation page: Anti-Bihari violence spreads, toll 56
CBI gives clean chit to IIM faculty
New Delhi, November 25
Giving a clean chit to the faculty of the Indian Institute of Management on the CAT question paper leak, the CBI today claimed that it had some evidence hinting that the leak could have been from the press which printed it.
Fraud in kidney donation detected
Amritsar, November 25
The unearthing of the multi-crore kidney scam did not deter a prospective kidney donor and a recipient from allegedly submitting false affidavits and the attestation of false documents by various authorities.



Boy hacked to death for marrying out of caste
Hoshiarpur, November 25
Relatives of Rajput girl, who dared to marry a Jat boy against their wishes, allegedly hacked him to death in a bazar of the nearby Jahankhelan village today. They even sent his arm to one of his relatives, before fleeing from the scene of the crime.
In Health today
Special coverage of Assembly elections in Delhi, Rajasthan, Madhya Pradesh, Chhattisgarh and Mizoram
India goes a step ahead, offers truce in Siachen
November 25, 2003

Challan sees rowdyism on roads
November 24, 2003

Chargesheet filed against Badal, five others
November 23, 2003

SC stays trial in Godhra, nine other cases
November 22, 2003

27 dead, 450 hurt in Istanbul blasts
November 21, 2003

Militants holed up inside BSNL office
November 20, 2003

Aircraft land Sonia, Jogi in soup
November 19, 2003

Judeo out, CBI probe on
November 18, 2003

Judeo to go if found guilty, says PM
November 17, 2003

Israeli troops must pull out, says Vajpayee
November 16, 2003

India to base planes in Tajikistan
November 15, 2003


Stop terror influx, Russia tells Pak
November 14, 2003