In Health Tribune today
THE TRIBUNE MAGAZINES
On alternate Mondays

On Sundays
On Saturdays
IN PASSING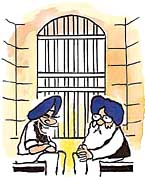 Should we convey our thanks to Captain Sa'ab for keeping us alive?

by Sandeep Joshi
MNF storms back to power in Mizoram
Aizawl, December 2
Blunting an anti-incumbency wave, the ruling Mizo National Front (MNF) headed by Chief Minister Zoramthanga today stormed back to power in Mizoram, securing majority in the 40-member Assembly, a mandate that could boost the Centre's peace talks with the insurgents in neighbouring Nagaland.


Editorial:
Vote for stability
India for Samjhauta talks on Dec 18,19
New Delhi, December 2
Tuesday brought a mixed bag of developments on Indo-Pak relations as while on the one hand India proposed technical level talks on December 18-19 for the resumption of the "Samjhauta Express" train, on the other hand it shot down Pakistan's sudden proposal of flying a delegation of Indian young businessmen from Islamabad to New Delhi in a special plane.


Editorial: Welcome, on board
Sharma remanded in police custody
Mumbai, December 2
Mr Ranjit Singh Sharma, a former Mumbai Police Commissioner, was remanded in police custody till December 9 by a Pune court today. Public prosecutors said Mr Sharma needed to be questioned further for his links with forger Abdul Karim Telgi.


Editorial: Keepers of the law?
PM to leave for Nigeria on Dec 4
New Delhi, December 2
Prime Minister Atal Bihari Vajpayee will leave for Nigeria on December 4 to attend the Commonwealth Heads of Government Meeting. However, he has cancelled his scheduled visit to Ghana which was originally proposed to be the second leg of his foreign tour.
Shashank takes over as Foreign Secretary
New Delhi, December 2
Mr Shashank, a 1966 batch officer of the Indian Foreign Service, today formally assumed charge as Foreign Secretary.

In video (28k, 56k)


SC rejects Manu's bail plea
New Delhi, December 2
The Supreme Court today dismissed the appeal of model Jessica Lall murder case main accused Sidharth Vashishat, alias Manu Sharma, son of Chandigarh-based former Union Minister Vinod Sharma, against the Delhi High Court order cancelling his interim bail.
HOROSCOPE
Badal, Sukhbir sent to Patiala jail
December 2, 2003


Pak to lift ban on Indian overflights
December 1, 2003

India differs with EU on Pak policy
November 30, 2003


HC stays tribunal order on transfers
November 29, 2003


SC upholds Punjab's decision on
liquor fee
November 28, 2003


Guns remain silent
November 27, 2003


Ceasefire begins
November 26, 2003


India goes a step ahead, offers truce in Siachen
November 25, 2003

Challan sees rowdyism on roads
November 24, 2003

Chargesheet filed against Badal, five others
November 23, 2003

SC stays trial in Godhra, nine other cases
November 22, 2003

27 dead, 450 hurt in Istanbul blasts
November 21, 2003

Militants holed up inside BSNL office
November 20, 2003