In Science & Technology Tribune today
THE TRIBUNE MAGAZINES
On alternate Mondays

On Sundays

On Saturdays

Pak to invite Advani for talks on extradition pact?
Case against Bhattal to stay, says CM
Mohali, January 7


The Punjab Chief Minister, Captain Amarinder Singh, today said that the corruption case against Mrs Rajinder Kaur Bhattal would not be taken back nor would she be given any additional portfolio following her appointment as Deputy Chief Minister of the state.
"Receipts" to go to Vigilance

Expansion despite law on Cabinet strength?

Cabinet meeting on Jan 13

Punjab page: Bhattal fails to appear in court

Sonia to talk to Pawar, Manmohan to DMK chief
New Delhi, January 7
The Congress has accepted the BJP challenge and gone into election mode.


In video: Congress party mulls strategy for polls. (28k, 56k)

Pakistan was warmer than expected
New Delhi, January 7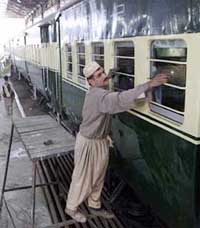 India found a marked change in Pakistan for turning round the prevailing cold bilateral environment even though Prime Minister Atal Bihari Vajpayee had gone to Islamabad with the sole intent of only pursuing multilateral agenda of the SAARC grouping.

Pakistan railway staff renovate the coaches of the Samjhauta Express on Wednesday at Lahore railway station. The rail service between India and Pakistan, which has been suspended for the past two years, is expected to resume from January 15. — Reuters photo

Pervez promises end to terror
January 7, 2004
Vajpayee meets Musharraf
January 6, 2004
India, Pak avoid Kashmir at SAARC
January 5, 2004
PM keeps door open for talks
January 4, 2004
SAARC agrees on terror protocol
January 3, 2004

Sinha flies into Pak as air links are restored
January 2, 2004

Foreign Secys struggle to iron out differences
January 1, 2004


Capt shifts Pandey
December 31, 2003


Pak not to raise Kashmir issue
December 30, 2003

India to call for joint SAARC plan on terror
December 29, 2003