THE TRIBUNE MAGAZINES
On alternate Mondays

On Sundays

On Saturdays

IN PASSING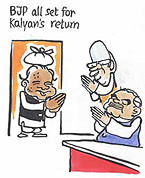 I hope you won't mind what I said about you. That was all in jest.

by Sandeep Joshi
(Click to enlarge)

Amrita Pritam to get Padma Vibhushan
New Delhi, January 24
Punjabi writer Amrita Pritam, former Chief Justice of India M.N. Venkatachaliah and astrophysicist Jayant Vishnu Narlikar would be awarded the Padma Vibhushan this year.
Punjab page: Grit, hard work won him Padma Bhushan

J&K Govt releases 18 detainees
New Delhi, January 24
The Jammu and Kashmir Government today released 18 detainees and said more would be released on the occasion of Id early next month.
Snowfall-related mishaps: 2 die
Shimla/Srinagar, January 24
A Nepalese woman and one more person were killed and five others injured due to heavy snowfall in three separate incidents in the district last night.


Agonising wait for daughter's body
Ludhiana, January 24
Two years ago, an aged couple of Kalson village near Raikot town here had given a warm send off at Delhi airport to their young daughter, who flew to Manila with her NRI husband. Now, they have been making rounds of the same airport for the past five days to take possession of the body of their daughter, who was allegedly killed for dowry by her in-laws.

Ikwinder Kaur celebrating the birthday of her husband at her house in Kalson village near Raikot before she went to Manila.
— A file picture
HOROSCOPE
Fire at wedding kills 54
January 24, 2004
Beant case accused flee
January 23, 2004
Kashmir, HP highways closed
January 22, 2004

Gorshkov deal clinched
January 21, 2004
Krishna Murthy to be new CEC
January 20, 2004
Hurriyat wants to visit Pak before talks
January 19, 2004
Interim Budget on February 3
January 18, 2004
2 top Hizb militants shot
January 17, 2004
Ceiling on FDI in petroleum, banking sectors up
January 16, 2004
Teachers not entitled to gratuity: SC
January 15, 2004