In Sports Tribune today
THE TRIBUNE MAGAZINES
On alternate Mondays

On Sundays

On Saturdays

Nation page:

Congress may go it alone in UP

Party unlikely to touch Bhattal
Al-Omar top man among 30 killed in Jammu & Kashmir
Srinagar, February 6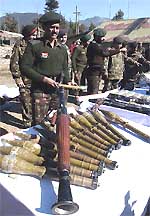 Twenty-two militants and six security personnel were among 30 persons killed, while armed men robbed over Rs six lakh from a bank in Jammu and Kashmir during the past 24 hours. Sources said the Special Operation Group, in a joint operation with the Central Reserve Police Force, killed Mohammad Rafiq Ladderi, the self-styled operational chief of Al-Omar Mujahideen at Nowhatta in the downtown city late last night.
The Army displays arms and ammunition seized from militants in North Kashmir at an Army camp at Lolab on Friday. — Photo by Amin War

SC bails out Faridkot college students
New Delhi, February 6
Showing compassion for the students of an electronics and communication course of a private engineering college in Faridkot, the Supreme Court today directed the AICTE and Punjab Technical University to ensure that their future was not affected.

Lyngdoh lays down office today


New Delhi, February 6
The Chief Election Commissioner, Mr J.M. Lyngdoh, will lay down office tomorrow after a tumultuous tenure during which he won international acclaim for successfully holding elections in Jammu and Kashmir and ire of the politicians for terming them "cancer".



Charges against Bhattal framed
February 6, 2004
JPC report confirms pesticides in colas
February 5, 2004

Interim Budget bonanza for Central staff
February 4, 2004

DIG shot outside Srinagar mosque
February 3, 2004

244 killed in Haj stampede
February 2, 2004

Pakistan sacks top N-scientist
February 1, 2004

Nitish gives sops in poll year
January 31, 2004

Magistrate suspended
January 30, 2004

Karunakaran to form Indira Congress
January 29, 2004
PM recommends Lok Sabha dissolution on Feb 6
January 28, 2004