HOROSCOPE
THE TRIBUNE MAGAZINES
On alternate Mondays

On Sundays

On Saturdays

Jail escapee shot dead
Fatehpur, February 24
The police gunned down an absconding prisoner in an encounter in the Lalauni area here on Tuesday morning. Superintendent of Police Chandra Dev Tiwari said the police swooped down on two criminals while they were allegedly planning to loot trucks on the highway.
Pioneer of anti-Mandal stir Rajiv Goswami dead
New Delhi, February 24
Rajiv Goswami, who grabbed the headlines when he attempted self-immolation protesting against the implementation of the Mandal Commission's recommendations in 1990, died here today after a prolonged illness at the age of 33.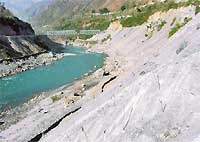 Dry twigs put to seem like ipomoea plantation on muck of Kol Dam dumped along the bank of the Sutlej in Bilaspur.
— Tribune photo by Manoj Mahajan
FOLLOW-UP
NTPC, HP lock horns
Dumping of Kol Dam muck in Sutlej
Kol Dam, February 24
While teams of experts of the Himachal Forest Department as well as of the State Pollution Control Board have been camping here for the past few days to critically examine any violation of the Forest Conservation Act in the dumping of excavated material of Kol Dam in the Sutlej, the NTPC maintains that no direction or guideline of the Union Ministry of Environment and Forests has been overlooked.
In Health Tribune today

Blast in space centre kills 6
February 24, 2004
PM launches insurance scheme from Lucknow
February 23, 2004
Pak tour from March 10
February 22, 2004
2 pc additional DA for Central staff
February 21, 2004
30 hurt as blast rocks Amritsar Dist Courts
February 20, 2004
Indo-Pak roadmap for peace
February 19, 2004
EC not to let ball hit ballot
February 18, 2004
Indo-Pak talks begin
February 17, 2004
Kanwaljit SAD choice for Patiala
February 16, 2004
PM clears Pak tour
February 15, 2004