HOROSCOPE

A Tribune Exclusive
Jogi, Judeo cases heading for quiet burial
New Delhi, March 6
In the Ajit Jogi and Dilip Singh Judeo sting and counter-sting operations the Central Bureau of Investigation seems to have come to a dead end.
Jethmalani ready to contest against Vajpayee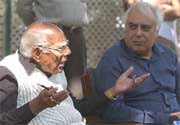 New Delhi, March 6
The Congress today got a shot in the arm when it won itself a new advocate in Mr Ram Jethmalani, its one-time bitter critic and former minister in the Vajpayee government.
Eminent lawyer and Rajya Sabha member Ram Jethmalani with Congress spokesman Kapil Sibal at a joint press conference in New Delhi on Saturday. — PTI photo

Advani: feel-good factor can lead to complacency
New Delhi, March 6


Deputy Prime Minister L.K. Advani today expressed apprehension that the feel-good factor could lead to complacency in the BJP. "The possibility of complacency setting in as a consequence of over-confidence in the party worries me.
Elections to cost exchequer Rs 938 crore
New Delhi, March 6
The four-phase Lok Sabha poll, the largest electoral exercise in the world in which 65 crore people would cast their votes, would cost the Union Government over Rs 938 crore.
HOLIDAY NOTICE
The offices of The Tribune group of Publications will remain closed today on account of Holi. There will, therefore, be no update of the site on March 7.
The Tribune wishes its readers a happy and colourful Holi.