THE TRIBUNE MAGAZINES
On alternate Mondays

On Sundays

On Saturdays

IN PASSING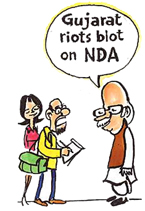 When are you going to release "Modi-fied" version of your statement, Advaniji?
by Sandeep Joshi
(Click to enlarge)
Gujarat riots a blot on NDA, admits Advani
Ghaziabad/New Delhi, March 8
Terming Gujarat riots in 2002 as a "blot" and an "aberration", Deputy Prime Minister L.K. Advani today asserted that barring those "unfortunate" incidents, the six-year tenure of Vajpayee-led NDA government had been remarkable in ensuring security and development in the country.


In video (28k, 56k)

Advani shedding crocodile tears, says Muslim Board
EC recognises Pawar-led NCP
New Delhi, March 8
In a major boost to Mr Sharad Pawar ahead of the Lok Sabha poll, the Election Commission today recognised the party led by him as the real NCP allowing it to retain the 'Clock' symbol and giving his rival Mr P.A. Sangma the defeat in the first round of the battle.

In video

(28k, 56k)




A little girl leads activists of Nari Raksha Samiti at a rally to mark International Women's Day in New Delhi on Monday. — PTI
In Education Tribune today
Qazi blames Jaish for attack on Parliament
March

7

, 2004
BJP balances RSS, NDA visions in poll manifesto
March 6, 2004
Pak Gen offered N-help to Nigeria
March

5

, 2004
6 killed in Jammu jail attack
March

4

, 2004
Blasts in Iraqi mosques leave 140 dead
March

3

, 2004
EC dares to bare candidates
March 2, 2004

4-phase LS poll in April, May
March 1, 2004

Osama: captured or not?
February 29, 2004

Mufti Sayeed escapes grenade attack
February 28, 2004

Revolt will not hit Cong: Sonia
February 27, 2004

Hurriyat threatens to pull out of talks
February 26, 2004